Google's 2021 Update Could Impact Your Lead Gen Strategy
DBS Interactive
DBS Interactive
Google's dominance as the go-to digital resource for discovering and gathering information makes it the holy grail for businesses strategizing how to drive online sales and increase brand awareness. Capturing the attention of prospects during the research and discovery phase of their customer journey is critical to generating leads.
That's why companies that rely on organic search traffic from Google to generate their leads and sales–especially B2B businesses–must pay close attention when there's a major update to the core algorithms that influence Google Search—especially when the updates are as big as the "page experience update" released over the summer months of 2021.
What impact will the page experience update have on your lead generation strategy if your website doesn't perform well enough? The financial consequences could be dire for businesses with slow or poorly-designed websites, as they now risk a dramatic loss in search traffic and brand visibility that could negatively impact their sales pipeline growth–which is bad news for the company's bottom line.
The good news? You can actually benefit from the page experience update and elevate your website above the competition in search results, if you understand what the update means and how your site can win. Let's explore how Google defines "page experience" and what your site needs in order to avoid being penalized by the update.
What is "Page Experience"?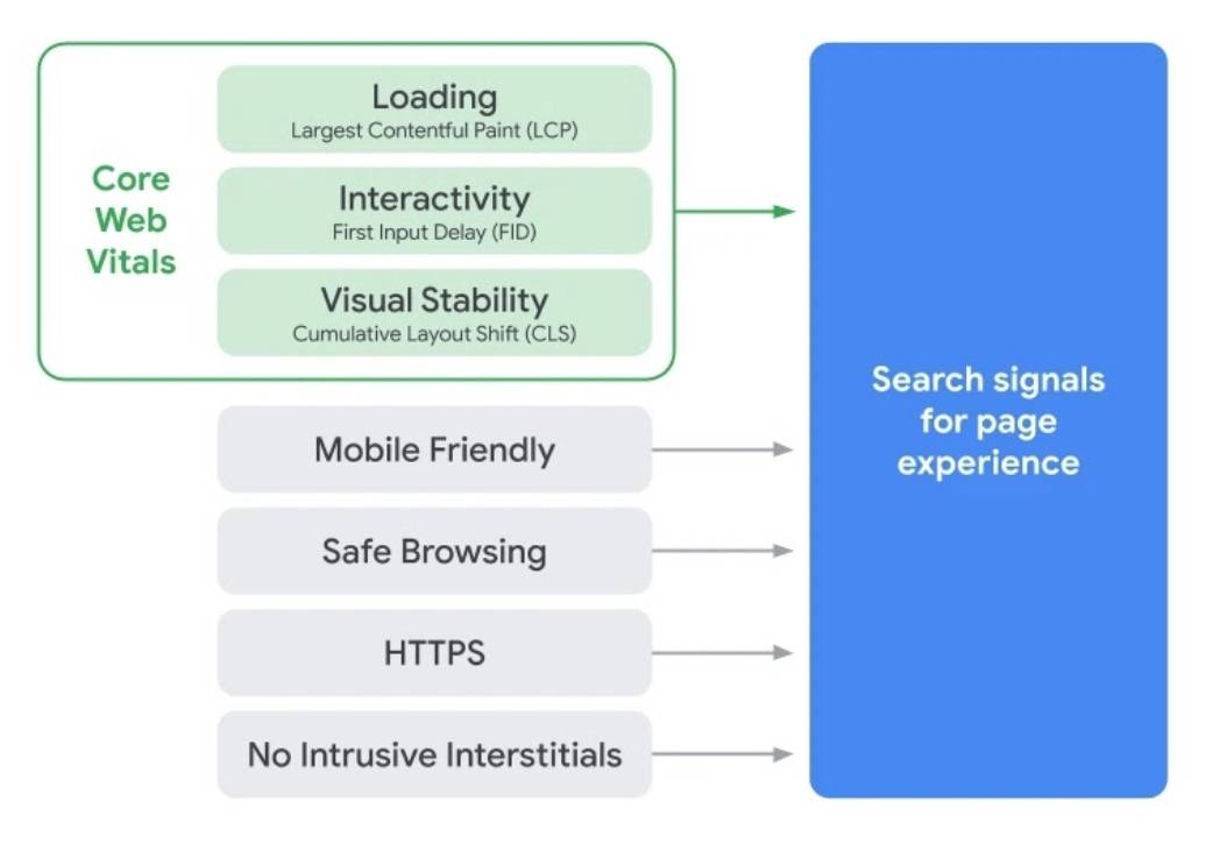 Page experience refers to a set of ranking signals that inform the Google Search algorithm about whether a website is providing visitors with acceptable speed, safety, performance, and usability. The biggest component of page experience is a set of signals known as Core Web Vitals.
Google determines the quality of a website page based primarily on its mobile experience, factoring in the site's security, adherence to web development best practices, and user-friendliness, all based on key performance metrics that include:
Core Web Vitals – These metrics measure whether sites meet Google benchmarks for Loading, Interactivity, and Visual Stability.
Mobile Friendliness – The site loads quickly and offers a great user experience on mobile devices.
Safe Browsing – Site visitors are protected, meaning they are not exposed to malware or other deceptive programs.
HTTPS – The site is served over a secure connection.
No Intrusive Interstitials – When browsing the site, users are not interrupted by poorly designed interstitial pop-ups or ads.
Why Google Cares About Page Experience
Naturally, you may wonder why page experience is suddenly a major concern for Google. The reality is, Google's algorithm has factored in various aspects of page experience for a long time, because its primary goal has always been to display the best and highest quality search results for its users.
Part of that equation is predicting how users will respond when they land on a site. You have probably encountered websites with poor user experiences—e.g. page content that jumps or bounces as you scroll, pages loading slowly because of large images, interstitial pages or ads that interfere with your browsing experience, deceptive or dangerous links that install malware…the list goes on.
Who isn't frustrated when encountering these kinds of websites? Think about it: How do you feel when you have sub-par experience at a brick-and-mortar business? Long lines, slow service, cold food, rude employees? Cross that business off your list.
In fact, when it comes to websites, customer expectations are even higher because we have elevated our standards for the digital world as business has shifted online. Since brands implicitly control the development of all functionality and design on their website, offering visitors a faulty site that doesn't perform well reflects poorly on the brand and its commitment to offering consumers the best brand experience.
Users of Google Search have come to view its organic search results as de facto endorsements and recommendations, so Google has a stake in making sure every site listed organically in its SERPs provides the best content and user experience. Filtering websites with slow page speeds and janky UX from the results saves searchers from clicking through to encounter bad user experiences, further building their confidence in Google as a resource for knowledge and discovery.
Need help fixing your site to prepare for the Page Experience update?
Let's Talk
Understanding Google's Historical and Ongoing Search Updates
Updates to Google's core search algorithm are not rare—the search giant releases them on a regular basis, often several times per year. When announcing these updates, Google has always pointed back to their earlier statements explaining their need to refine Google's search results so that only the websites with the best and most relevant content for a searcher's query are showing up in its search engine results pages (SERPs).
Still, not all Google updates are created equal. Over the past decade, the more impactful updates of the Google Search algorithm have been designed to reflect major changes in digital best practices and the ever-evolving needs and expectations of internet users:
The "Panda" update in 2011 sought to remove low-quality or "thin" content from search results.
The "Penguin" update in 2012 aimed to refine search results by removing websites using black hat link-building techniques.
The "Hummingbird" update in 2013 introduced natural-language processing to help Google determine search intent more accurately, and fundamentally changed its approach to matching results with queries–including laying the foundation for voice search.
The "Pigeon" update in 2014 aimed to refine and elevate local search results so that small local businesses with good content and organic presence can match with queries and rank just as highly as bigger brands located in the searcher's proximity.
The "BERT" update in 2018 took Google's natural language processing to a new level, implementing a neural network-based technique to make the algorithm even better at accurately interpreting the meaning and intent of search queries based on contextual data.
The Implications for Lead Gen & SEO
Not every company has the same dependence on their website's organic search performance when it comes to generating new sales. Still, every business has a stake in building and managing its brand visibility and presence in Google SERPs–especially with a vast and growing number of competing brands and websites seeking to outrank them on the coveted first page for popular keywords.
There are major risks to a company delaying or ignoring the need to update their website for a better page experience that meets Google's performance benchmarks:
1. Losing Search Visibility to the Competition
For businesses, the goal in search is to rank for industry keywords and terms that indicate a high likelihood of buyer intent. The problem is, there are a finite number of keywords related to a product or service, especially if it is a newer or niche category, and all of your competitors are pursuing those same keywords.
What makes organic SEO even more competitive is the reality that ranking on the first page of Google search results is the only goal that really matters for driving organic search traffic to your site, since only 25% of searchers click through to the second page—yet there are no more than 10 possible organic listings to win on Page One of any Google SERP.
To put this in perspective, think of the dozens or perhaps even hundreds of brands in a particular industry sector, then imagine all of them in one large room playing a competitive game of musical chairs—but with only 10 possible seats to win.
Whenever Google updates its algorithm, the music stops, and every website frantically scrambles to sit in one of the 10 chairs. Many of the 10 winners who managed to grab a seat will still look with envy at the 3 best chairs (i.e. the top 3 ranked positions in search results) and strategize how to win those seats in the next round.
For top-ranked websites that have not focused on maximizing their site's performance, Google's Page Experience update will likely push them down and out of these valuable first page search rankings, leaving them without a seat when the music stops—which leads to less organic traffic and fewer opportunities to generate leads.
2. Losing Traffic to Topic-Adjacent Web Content
When websites implement SEO to rank higher for specific keywords in Google Search, it's not just their competitors who are jostling for those prized first-page SERP rankings. They're also competing with any web content that is topically related to the product or service they offer, including reviews, news stories, social media posts, and even Google's paid search ads targeting the same keywords.
The presence of this competing content on a SERP means it will be more difficult for sites to rank highly enough to stand out so that it can earn more click-throughs and meaningful search impressions for the brand.
Optimizing site performance to offer the best Page Experience gives you a better chance at outranking the topic-adjacent content that further obscures your brand presence in Google search results.
3. The Penalty for Complacency is Irrelevance
This is not the first Google update, and it certainly won't be the last. Google already views aging and outdated content less favorably than newer, more relevant content. For website owners that don't regularly publish new content, or refresh their old content, the need to optimize website performance has only become greater.
With each passing day, digital marketers are publishing fresh, high-quality content that is developed with the ultimate goal of outranking competitor websites that have become complacent with their high Google search rankings and neglected the best practice of continually optimizing pages and performance.
Your Website Isn't Performing as Well as You Think
You might open your site on your mobile or desktop browser and feel pretty safe and confident that your website performs well, but the reality is you don't know how it's performing "under the hood" unless you've objectively measured how it performs using the right tools.
Much like you can't tell whether a car engine will start by just by looking at it, you need to perform a diagnostic that provides more data about what's actually happening when your website loads on a browser. Luckily, you can diagnose your website's performance fairly easily using Google's free Lighthouse tool.
Measuring Site Performance with Lighthouse
Measuring how well your website performs is especially easy when using a Chrome browser on desktop. Here's a brief how-to:
In the Chrome browser, hover over the page and perform a secondary click to pull up the menu and select "Inspect"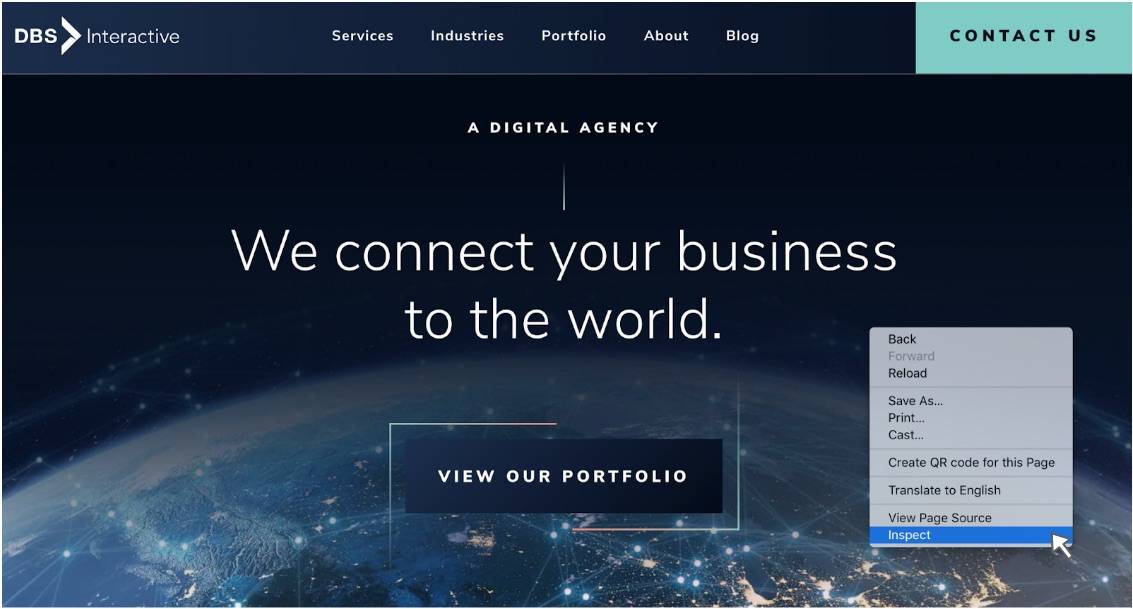 When the panel appears to the right, click the Lighthouse tab–if you don't see Lighthouse, click the arrows to reveal the dropdown and it should be there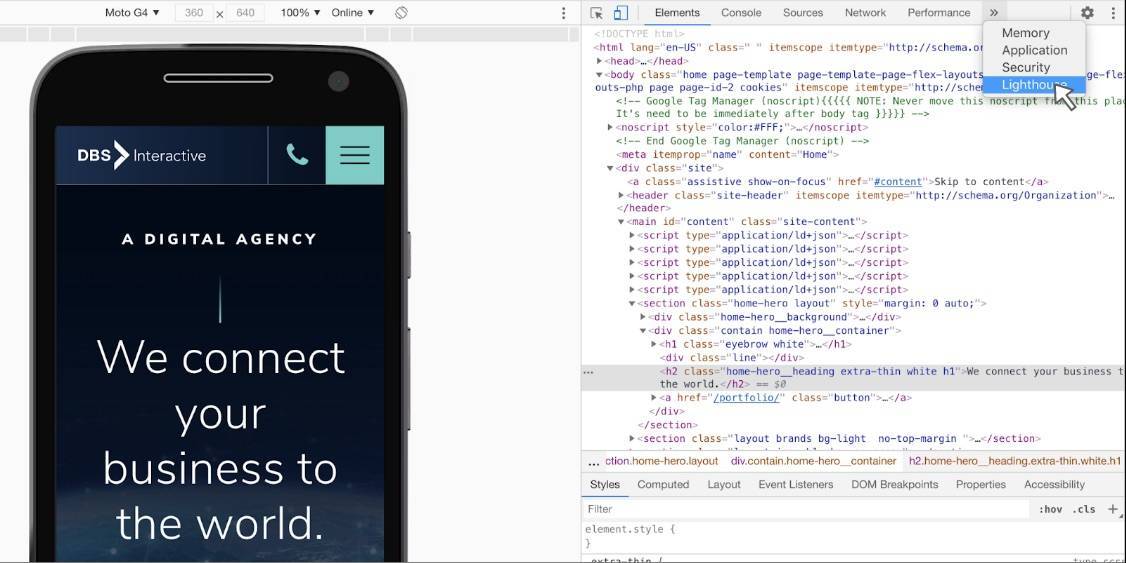 In the Lighthouse panel, make sure you check all the boxes to score all performance areas of your website against Google's criteria, then click "Generate Report"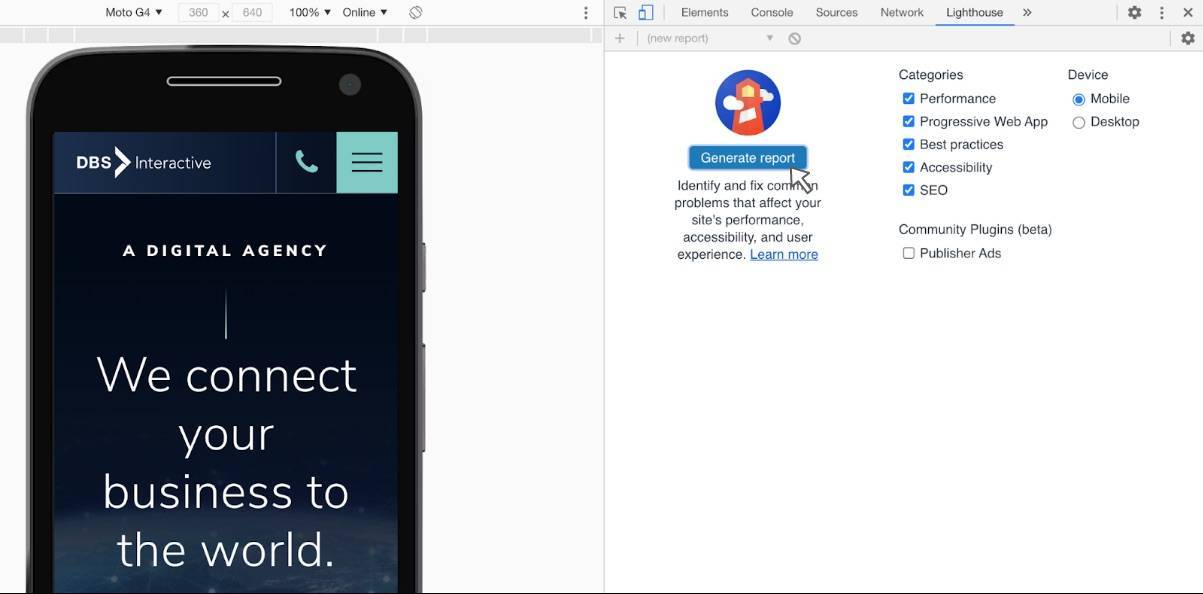 Your scores will indicate how well your site tested against Google performance requirements. If everything is green, you're in good shape. And if everything is 100, you get fireworks! If you get yellow or red scores, you need to rethink whether your site is optimized enough to truly perform up to Google's standards.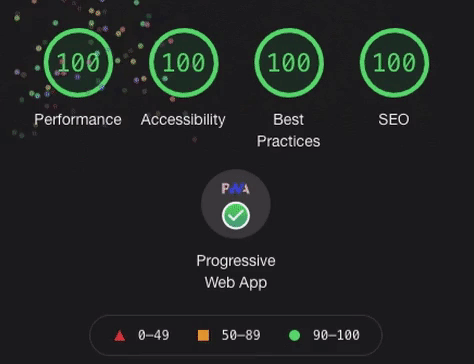 Prioritizing Speed, Accessibility, and Security
As most of you will probably discover once you run the tests, your website may excel in some areas, but it's likely struggling to meet the entirety of Google's criteria for optimal performance. The scores presented in the Lighthouse tool comprise a number of best practices that include:
Speed and Usability – Websites are expected to load quickly on all devices and avoid frustrating visitors with interruptions and glitchy browsing experiences; this is especially emphasized for the site's mobile experience, which is the Google default for search indexing.
Web Accessibility – Google expects sites to conform with accessibility best practices established under the WC3's Web Content Accessibility Guidelines 2.0, which are the currently-adopted standards for website accessibility across the world.
Safety and Security – Sites must live on a secure server and avoid exposing visitors to unnecessary risks due to poor coding practices or a lack of proper maintenance.
Search Optimization – Google provides well-established criteria that web developers and content publishers can follow to optimize their web pages and content for the search engine.
Don't take a lack of good scores too personally–meeting all of these criteria requires a breadth and depth of digital expertise that few businesses have. Unfortunately, few digital agencies possess the right mix of resources and knowledge to develop sites that meet all of these requirements.
Most Digital Agencies Will Struggle with Page Experience
Optimizing a website to achieve top rankings in Google Search is about more than just what happens on the page—it also requires a deep understanding of the technical aspects of developing, designing, and publishing digital content according to Google's best practices and performance benchmarks.
With that in mind, the reality is that most marketing and web development agencies are not equipped with the full breadth of development expertise needed to address each component and requirement of Google's Page Experience search ranking signals. This is mostly because their clients have been primarily concerned with how the website looks and functions, and less focused on optimizing the technical performance of the site for optimum speeds and interactivity on all devices.
Agencies also often focus on SEO and content marketing from a topical perspective, merely ensuring that the relevant semantic verbiage used on the page follows their keyword strategy. Improving page experience, meanwhile, is much more focused on technical SEO methodologies.
Technical SEO vs. Content SEO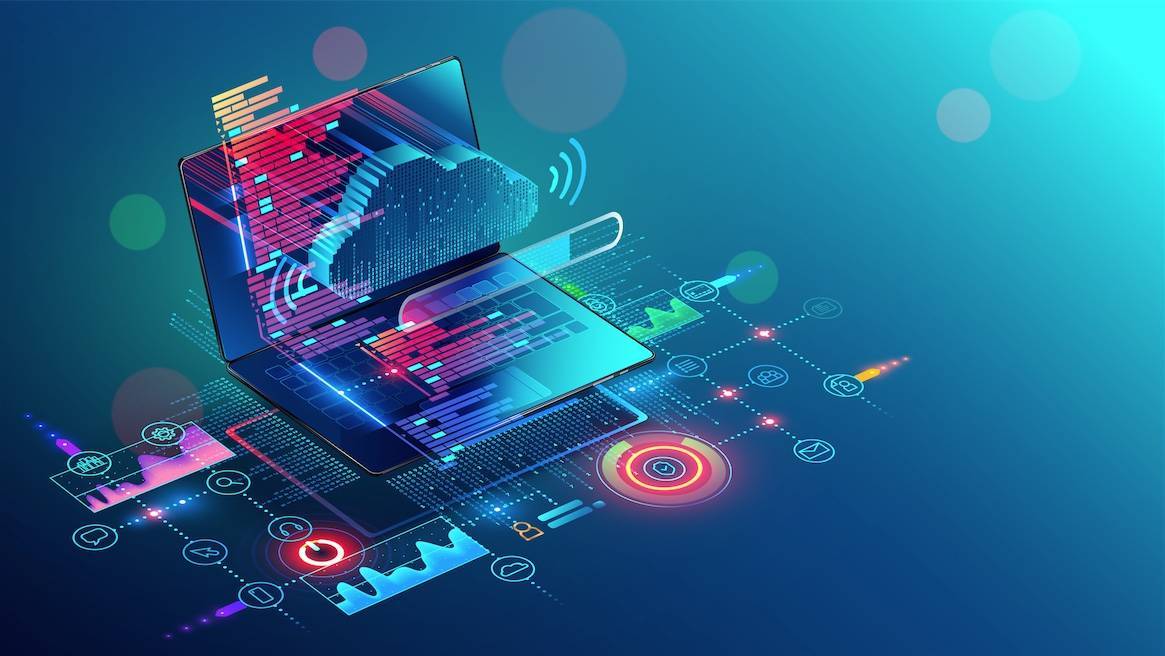 Marketing agencies often specialize in a form of "Content SEO" that focuses on tactics such as keyword strategy and blog writing, with the goal of producing high-quality, keyword-optimized content that converts readers and is published according to a regimented editorial calendar.
Content optimization used to be enough to support a well-rounded SEO strategy–and great content is still essential for online search performance–but as Google's Search algorithm has become increasingly complex, keyword density and content-based SEO have become less of a differentiator when it comes to elevating websites in Google rankings.
Technical SEO, meanwhile, requires a much more niche, developer-oriented skill set that focuses on code-based remedies and programming optimization that makes website pages faster and easier for Google to crawl and index. Some examples include:
Writing and implementing structured data or "schema markup" to win Google's Featured Snippets and rank for Google Voice search results
Detecting and fixing broken links and redirect loops to save "crawl budget" (that's the time allotted by Google for its crawler to read and index your site) and follow UX best practices
Optimizing the critical rendering path to help pages load faster
Implementing AMP for mobile versions of articles
Developing the website as a Progressive Web App for improved speed, mobile-friendliness, and usability
Accessible Design and Development Expertise
Why do a staggeringly low percentage of business websites include web accessibility? Mostly because accessible web design and development is its own complex discipline that few web agencies have mastered. Mastering digital accessibility as a web developer or web designer requires dedicated study, practice, and experience building accessible digital products.
Since most web agencies don't have these specialized developers on staff, many depend on third-party vendors to provide a "lighter" (and frequently, not fully ADA-compliant) web accessibility tool or plug-in that functions merely as a "wrapper" around inaccessible website content.
These front-end accessibility solutions do the bare minimum to meet compliance, instead of fully implementing true web accessibility through custom web development. As a result, organizations using these tools don't benefit from the advantages of building a truly accessible website. Moreover, these tools frequently add their own accessibility issues—some are even so bad that disability advocates are openly criticizing web accessibility companies with those products to stop marketing themselves as solutions.
Web design agencies also often suffer from the misconception that implementing accessibility compromises a website's design aesthetic. Not only is this untrue, it's frequently the opposite–forcing designers and developers to incorporate accessible web design best practices actually improves the navigation and usability of their sites for all users, not just those with impairments. And that's why Google wants to reward accessible websites with higher search rankings.
Knowing the Whole Search Ecosystem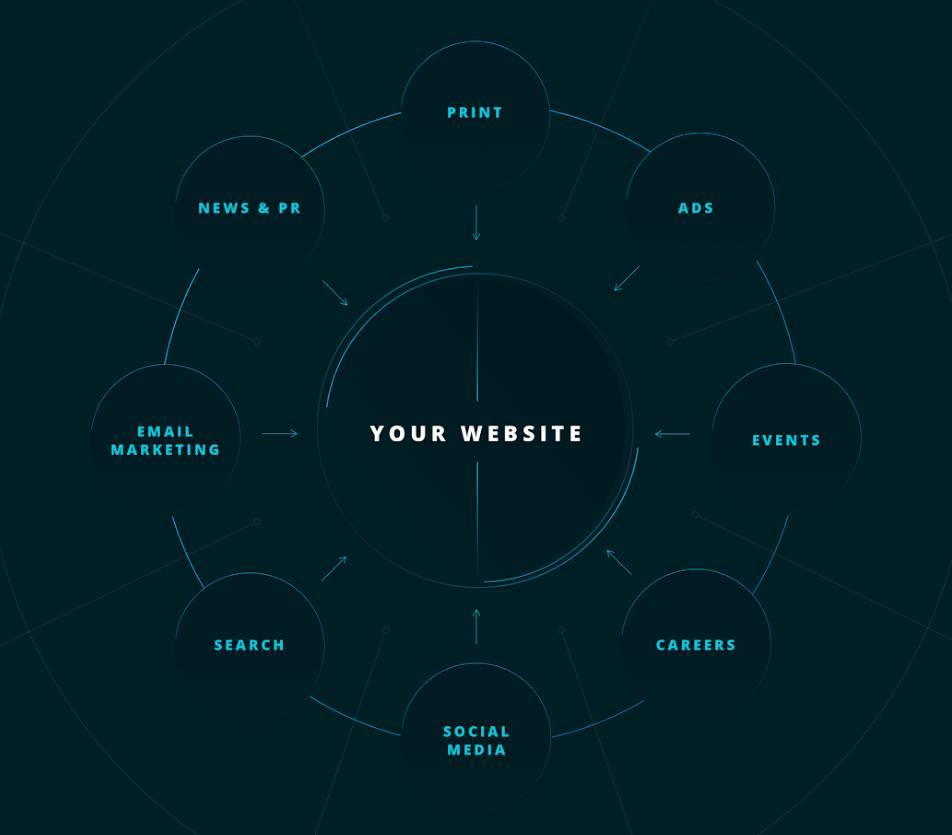 Most digital agencies specialize in marketing campaigns that focus on one or a few digital channels. True SEO must account for the role of all digital channels in funneling qualified traffic to the site and delivering the specific answers or content your audiences are seeking:
How to Avoid Page Experience Penalties
Now that you know more about Page Experience and Google's thinking behind search algorithm updates, you might be left with the question "What can my website do to avoid losing search rankings after the Page Experience update?"
Implement Website Accessibility
Making your website accessible enough to meet Google's criteria for web accessibility is both good for business and an ethical obligation for brands that support fairness and equality on the internet.
Accessible web design and development is not easy to do–as we discussed above, even most digital agencies aren't equipped for it–but the long-term ROI, the positive branding, and the immediate SEO benefits of implementing accessibility make it a no-brainer for companies that want to maximize their site's search performance.
Optimize Content Across Digital Channels
It may sound like a given, but striving to produce the highest quality content is really the best SEO strategy because it supports Google's primary goal: Always present the highest quality content in a user's search results, even if it doesn't have the best page experience ranking signals. This also applies to constantly updating previously posted web content with new or more helpful information that increases its relevance and value to the reader.
The Page Experience update is focused on your website's technical performance, but the content posted to every digital marketing channel works together holistically to improve SEO and nurture prospective customers into becoming sales leads. Your marketing campaign running on social media or through email nurturing will eventually draw the audience to the website, where the great content there can drive them further down the sales funnel towards conversion.
Use Tools to Monitor and Detect SEO Issues
A key to improving your page rank in Google Search is to always be aware of how your content is performing and evaluate whether your content is progressively becoming more search-optimized.
There are several free tools you can use to ensure your site conforms with Google's Page Experience guidelines and follows best practices for search engine optimization:
Lighthouse – As demonstrated above, Lighthouse is a useful tool for measuring page performance in real time against Google's expectations.
Google Search Console – Search Console is an essential tool for ensuring your website can be easily and accurately crawled and indexed by Google's search engine. Google has also just added a helpful Page Experience tab that reports on page experience scores for all your website pages.
PageSpeed Insights – Put any website URL into this tool and you will receive both a real-time performance measurement and Google's own historical data (if available) showing how the site has performed in terms of Core Web Vitals and other benchmarks over the previous 30 days.
Hire an Experienced SEO Agency
There's no substitute for experience–and when it comes to SEO, we have more experience than most digital agencies. We've been designing and developing high-performance, lead-generating websites for over 20 years, delivering results for global clients in B2B sectors such as chemical manufacturing, healthcare, equine, pharmaceuticals, finance, machine tooling, industrial engineering, and more.
We succeed for clients because our thinking goes far beyond what your website needs for Google's Page Experience and SEO, combining industry knowledge and business sense to position your site as the "hub of the wheel" that makes all your marketing channels work in harmony.
Connect with us to start a conversation about how DBS can help your business grow through beautiful web design, SEO, and digital marketing that's measurable, accountable, and profit-oriented.
Stay Updated
Keep track of the best design, marketing & tech resources delivered straight to your inbox.