Case Study: Mighty Small Homes
Mighty Strong Growth Through Integrated SEO
Prefabricated kit home manufacturer Mighty Small Homes needed a new website and content strategy that drove demand for its products, generated more leads, and elevated its search rankings organically.
Results Snapshot
Achieved Top 10 rankings for Over 100+ new keywords within 3 Months
Over 300% improvement in leads generated by Organic Search
72% increase in Organic Search traffic
As a young company in the competitive small home manufacturing industry, Mighty Small Homes needed to create market demand, build brand awareness, and accelerate business growth in a sustainable way that delivered a reliable and increasing return on their digital marketing investment.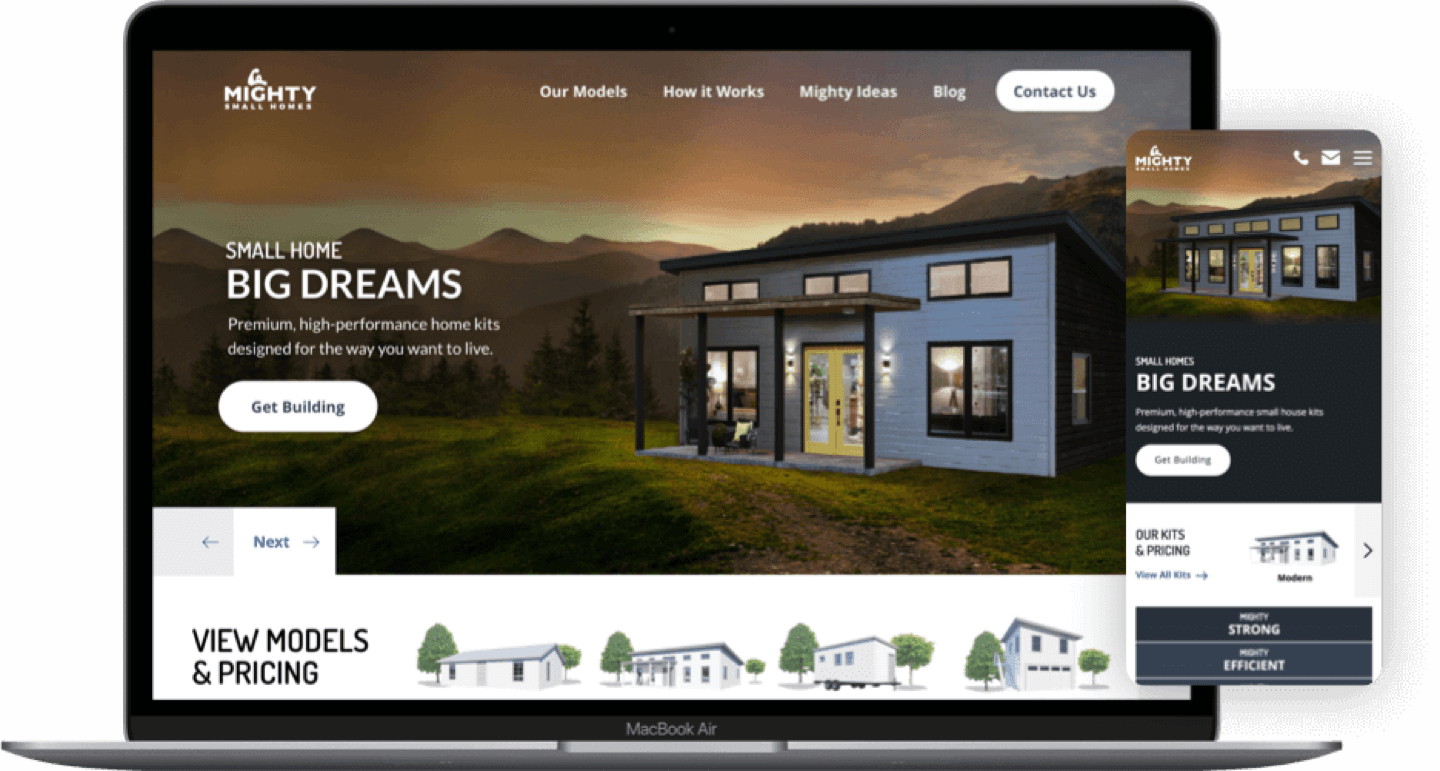 Lightning Fast Pages
Website pages needed to be designed and developed for faster loading and responsiveness to user interactions and navigation.
Technical Search Optimization
Structured data needed to be deployed throughout the site in the form of schema markup that would help it rank #1 for competitive keywords.
Visually Appealing Designs
To improve search ranking signals by keeping visitors engaged, web designs needed to be intuitive, informative, and aesthetically pleasing, all while staying true to the brand.
Clustered Content
Content on the website would need to be strategically organized and structured to build the brand's credibility and authority around industry topics.
Integrated Marketing
A multichannel marketing strategy would drive more traffic to the site organically and improve its SEO through external link building.
Intuitive Architecture
The site's URLs, page structure, and navigation needed to be optimized so users could find what they need faster.
Custom Quote Tool
We designed an interactive shopping tool that allowed site visitors to choose any house kit model and customize upgrades and options to see different layouts, features, and pricing. It immediately became the website's most effective lead generator, while also enabling more meaningful email segmentation by organizing subscribers based on their selections.
Schema Markup for Products
Many of the keywords we were targeting were highly competitive, so we built complex structured data called Schema markup for each page of the site that featured a Mighty Small Home product (house kit). As a result, we were on the first page of over 100 high-volume target keywords within 3 months of launching the new site.
Social Media Integration
We deepened the integration of social media channels to drive site traffic organically through posts that were keyword-optimized and linked with landing pages built to generate leads. By bringing more engaged and qualified traffic on-site, we elevated the client's overall SEO and rankings.
Proudly Working With