For many B2B companies, web design is the best sales tool at your disposal. B2B brands are rarely looking for immediate purchases on their websites, so great B2B web design should inform, captivate, and persuade people to engage with your brand.
B2B marketing has unique challenges when it comes to building customer relationships because B2B sales cycles tend to be relatively long, containing multiple interactions. That's why the right website design is key to driving organic traffic that converts into leads and building a high performing B2B website sales funnel.
The better your user experience, the more positive, lasting impressions your brand will leave with visitors. Working with a quality web design agency can help make sure you're following these B2B web design best practices as you design your B2B website:
Best Practices for Great B2B Website Design
1. Emphasize the Quality of Your Product
On a list of the Most Exciting Products, "envelopes" probably doesn't rank. However, you couldn't tell by visiting Blake Envelopes. Their website has a vibrant, cheery feel, and captures the audience's attention by featuring a variety of their high quality product line.
2. Perfectly Placed Call-To-Action
Asana does a great job directing their audience exactly where they want them to go. On their homepage, a giant call-to-action waits in the "first fold" to convert their visitors into consumers, followed by an eye-grabbing animation of their product in action.
3. Functional Minimalism
Less is more. There is no need for clutter and chaos. Quid is a great example of this theory, improving their user experience with a minimalistic approach (a rare choice in B2B web design) to reduce load time and increase readability. When there is less content on a page, it has a way of drawing more attention. Quid's homepage design is polished and simplistic, making small statements impactful.
4. Customer Service
Zendesk has done an amazing job by focusing on great customer support right from the jump. You can chat and talk to a live person while getting the full experience at the tip of your fingers.
5. Define Value Proposition
What is being offered? The audience should be able to instantly identify the company's purpose and how it will deliver. Rather than excessive attempts to drive buyer motivation, focus energy on addressing ways your company will provide a solution.
6. Quality Content
Sprint
(Source)
Offering energetic, colorful content to users will only lift your brand in a positive direction. Pick a brand voice that aligns with your company mission statement and run with it. Keep readers informed while portraying your company as one they can relate to and rely on.
It is important to understand the impact your content has on design. A beautiful site with poor content will greatly decrease the effectiveness of your site. There's a lot to say about content on a B2B website, but keep these in mind:
Briefly explain products/services immediately. Visitors need you to get straight to the point. At the first sign of ambiguity, they will bounce from the page and move on to one of your competitors.
Show them the benefits of the partnership.
If they decide to partner with you, what will their customers be gaining? Use case studies and previous successful partnerships of the past to show rather than tell. Actions speak louder than words.
Strategically place content.
It matters. The placement of content is crucial in directing visitors to your call-to-action. Placement is also used to prioritize content and the let the readers know how important it is.
7. Design That Tells a Story
Publish This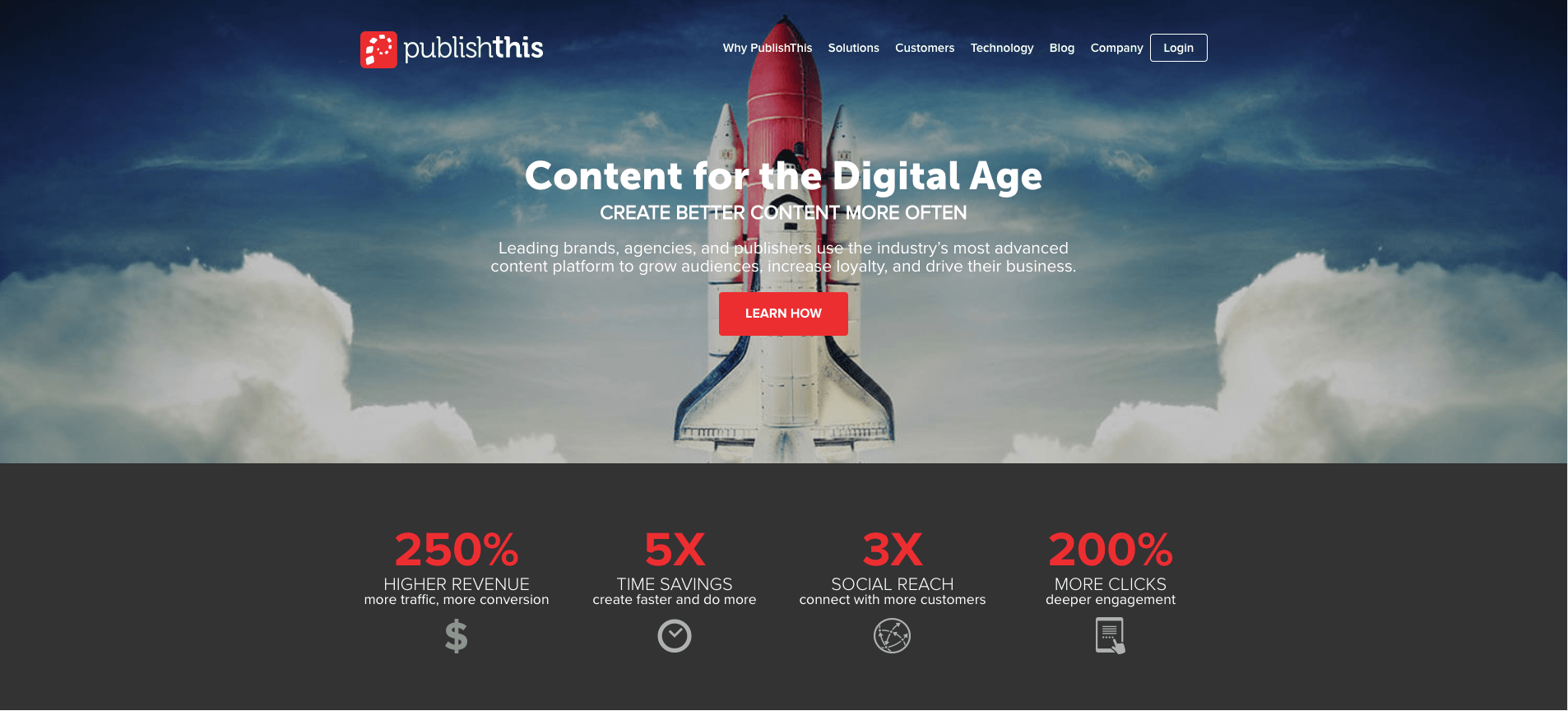 (Source)
Instead of directing users through complex navigations and category pages, choose a B2B web design that takes them on a journey. This approach moves towards conversation marketing rather than content marketing. Conversation marketing uses content to understand what it is that the user is looking to find, and then proving the tailored information needed.
8. Captivating Videography
D.FY
(Source)
D.FY utilizes captivating videography to illuminate their content with a story of who they are. This is a trend that is becoming extremely popular on home pages to take the place of excessive "about" content.