Before the internet became a large part of daily life, marketing for industrial and manufacturing companies focused largely on funneling resources into traditional sales strategies, such as trade shows, conferences, and advertisements in industry publications. Websites were an afterthought at best, viewed by many manufacturers as merely proof that the business exists.
Fortunately, most of today's manufacturing companies recognize that websites are an important lead generation tool for driving business growth. Research shows that even in situations where a business is not selling their products directly online (as is the case for most manufacturers), websites are often the most effective conversion point on the digital sales funnel because they play an important role in shaping consumer perspectives about brand, quality, and customer service.
To help you make your manufacturing website designs more effective, here are five critical best practices for designing websites for manufacturers, along with five helpful examples of the best manufacturing and industrial websites that effectively put those best practices to work:
1. Simple and Clear Navigation |
Cisco
Few experiences online can be as frustrating as a website that is hard to navigate. That's why simple, clear navigation is a must for manufacturing websites.
Cisco uses a three-level navigation structure, accessed by clicking one of the menu options listed at the top of their homepage, to effectively simplify navigating a large website with a lot of content.
This menu design is very helpful for Cisco's website audience because Cisco is a large company that develops, manufactures, and sells networking hardware and software technology solutions that support a wide variety of business sectors. By helping the user find their way around the site's pages and content with this menu, Cisco did a fantastic job of improving user experience.
In addition to the Menu button, Cisco's interior pages include an on-page navigation bar just below the hero that helps move site visitors to the content they're most likely seeking on that page. While it looks like the same navigation bar commonly used to browse different pages of a website, this navigation design is different because the menu items are anchor links–meaning that clicking one of these menu options doesn't leave the page, but rather keeps the user on-page and jumps down to the matching content.

Want a redesigned website that performs better and grows your manufacturing business? Hire an agency with 20 years of experience. (That's us)
Get a Quote
2. A Well Placed Call to Action |
IBM
For manufacturing companies, your website should be a place that helps visitors engage with your business. The best way to do this is to include clear next-steps for achieving their goals. For many manufacturers, the main call-to-action involves a lead generation form, because they assume many of the site's visitors are there to connect with someone in sales or support. "Start a Project," "Request a Quote," or "Contact Us" can all be effective messaging for buttons or links that drive users to fill and submit a contact form.
IBM's website drives visitors to different content on the site using different calls-to-action that are based on user persona and intent. Notice each CTA begins with action-oriented verbs, such as Explore, Build, Start, See, and Learn. This kind of descriptive link text helps users feel like they're achieving something and making progress towards their goals by clicking the CTA.
3. High Quality Images |
Lockheed Martin
Many manufacturing websites are still relatively outdated, and their imagery can be even more so. A high-quality image, photo, or graphic that tells your viewer exactly what you do is critical. It can also differentiate a manufacturing brand from a sea of competitors in their market. For many manufacturing companies in long supply chains, high quality product imagery clarifies the exact device, piece, or material that you manufacture.
Lockheed Martin's high-resolution photograph of the Defiant X assault aircraft on the homepage is a great example. It tells users the sophisticated technology their company is responsible for. The modern, exciting feel of the image is also an effective brand message, reinforcing Lockheed Martin's positioning as a state-of-the-art company.
An important best practice regarding images to keep in mind is to compress large image files, because they add to page weight, which slows the page loading process. Since page speed now affects the website's ability to rank at the top of Google search results, having high quality images that don't slow down page speed will be important for maintaining the SEO of the website.
4. Great Hero Messaging |
Zeon Chemicals
For many visitors to a website, their first few seconds will determine whether or not they will convert into a lead. Your home page hero message generally represents the most-seen area of your entire website, so it's critical that your hero quickly and clearly informs the viewer exactly what it is your company does, and the value it provides.
Zeon Chemicals does a great job of presenting their value statement in five words: "Innovative Elastomers. World-Class Service." The message instantly clarifies what they manufacture–in this case, they are elastomers manufacturers, not rubber manufacturers.
In addition to quickly informing the user of their corporate purpose, Zeon's imagery loads quickly, even when browsing pages on a slow internet connection. With page loading speeds of under one second, Zeon ranks in the top 10% of websites in terms of speed. Since page speed is now a major ranking signal for Google SEO, a fast loading site is necessary for manufacturing websites to attract the most possible organic search traffic and generate leads.
5. Great Content Marketing |
John Deere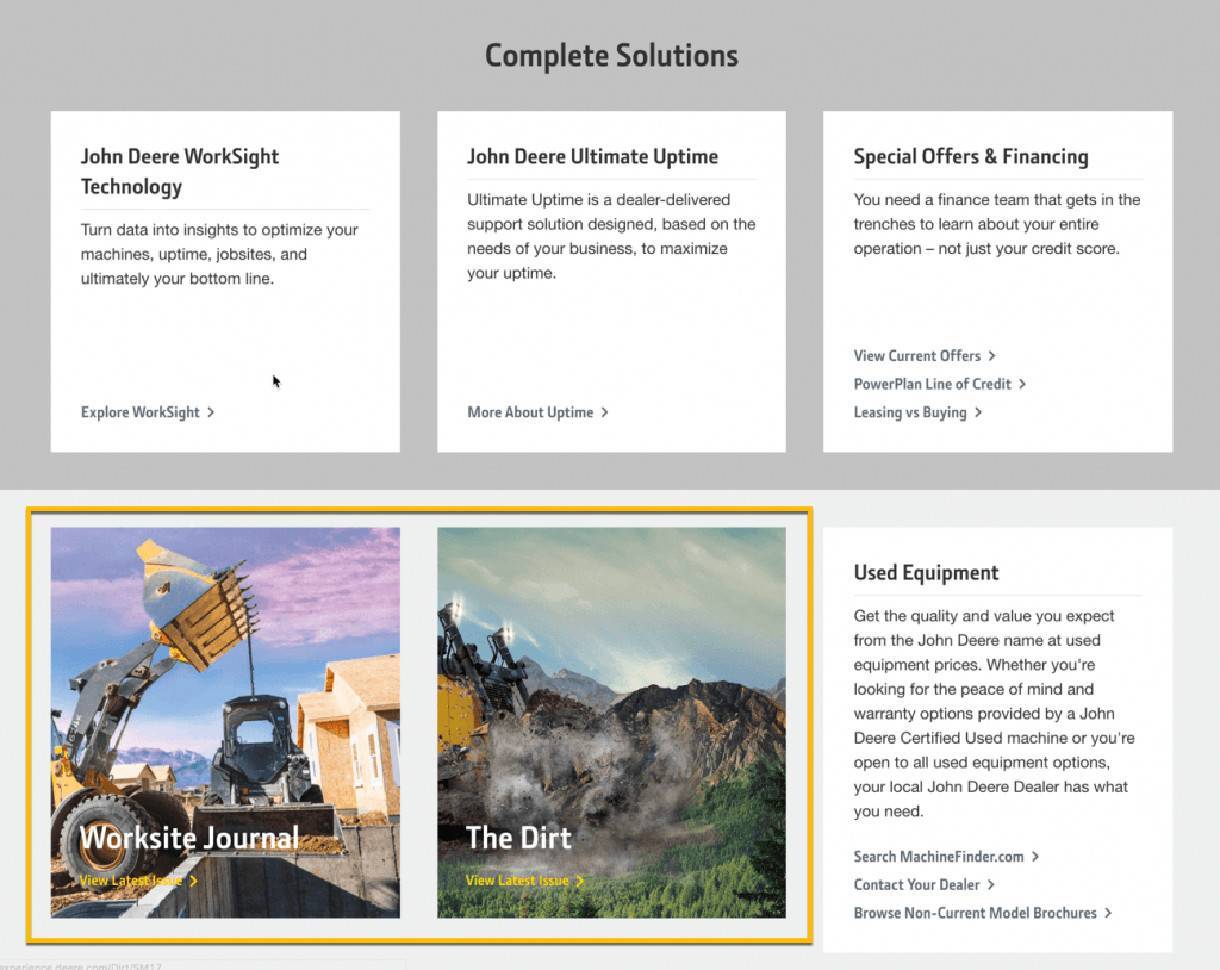 The most effective content marketing for B2B manufacturing companies happens on the website. By utilizing existing material for fresh content and linking in-house publications on their Construction page, John Deere delivers effective content marketing to their website audience.
While content marketing pieces often support inbound marketing strategies by bringing visitors to your website, they can also be value-adds for visitors who enter the site via social media, referral links, or other channels. Putting your most effective content pieces on your website's main landing pages helps all visitors become more informed and engaged.
In addition to effective content marketing, John Deere also makes great use of quality images that engage the viewer, letting them know immediately what the company is about.
Want the Best Web Designs for Your Manufacturing Site?
We have 20 years of experience designing and developing high-performing websites that deliver results both domestically and internationally for world-class organizations in the manufacturing industry, such as Methods Machine Tools and Big Ass Fans.
Connect with us to schedule your free consultation, and get a customized quote for making your manufacturing website redesign project successful and profitable.
Stay Updated
Keep track of the best design, marketing & tech resources delivered straight to your inbox.