Integrated Marketing
---
Your marketing objectives frame our integrated strategy, as our campaigns blend the right mix of channels to drive new business and create brand awareness.
Capturing Buyers Throughout Their Journey
Thanks to digital, today's buying process is not linear. That's why our campaigns target every decision-maker involved in the complex buying and selling process, delivering the right message across multiple channels at just the right time.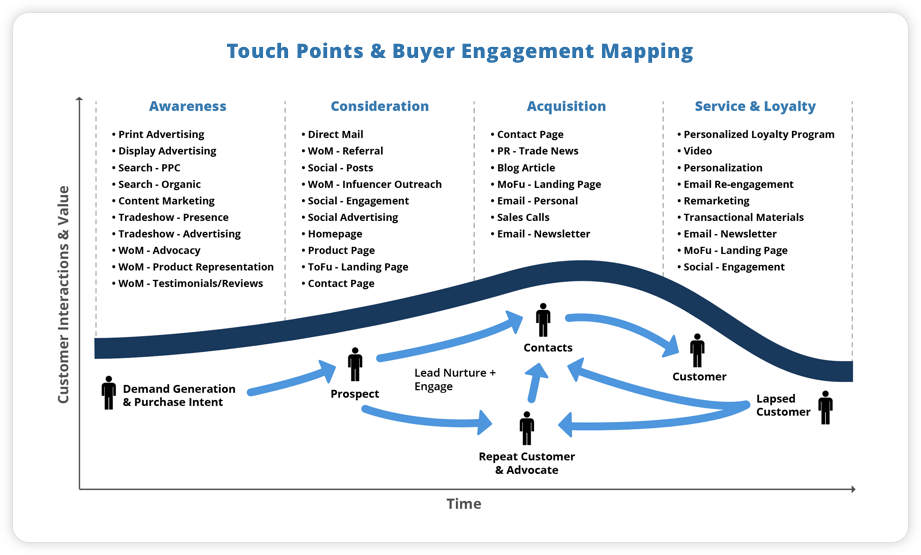 Your Goals Become Our Goals
Our team of designers, developers, copywriters and SEO experts become an extension of your business — your partners. You know your business. We listen. We advise. We collaborate. Then we take action and relentlessly pursue your goals.
Our #1 Goal:
Exceed Expectations
Sales pipeline growth
High-quality leads
Brand awareness
Improve engagement
Increase pageviews
The DBS team leverages over 170 years of award-winning digital, marketing and communications experience for your success.
Let us go beyond your goals
Surprise, Delight, and Inform Audiences
With a high-performing website as a foundation, our integrated campaigns deliver precise messaging to engage prospects and existing customers at key moments.
Expert content that informs and supports SEO
Social media that gets shared and drives referral traffic
Public relations and earned media builds credibility and brand reach
Email nurturing drives lead conversions
Traditional media for brand awareness and direct traffic
PPC and Paid Social campaigns yield more precise audience targeting

Our Strategic Process Sets Us Apart
To ensure your integrated campaigns deliver results, we follow a proven process that starts with a deep understanding of your vision for growth.
Discovery
Our initial phase identifies key audiences, your unique sales proposition, and your most important business goals.
Strategy
Armed with a deeper understanding of your target audience, we decide which channels are more likely to help your campaign succeed.
Ideas and Messaging
We begin developing ideas and messaging that create brand harmony between your online and offline presence. We bring this work to life with any combination of deliverables needed to achieve your goals.
Technical Content
Product Guides
Data Sheets
How-To Manuals
Training Materials
Shareable Content
Tools
Infographics
Interactive Content
Blogs
Digital Marketing
SEM/PPC
Display
Remarketing
Email Marketing
Events
Trade Show Banners
Interactive Display
Exhibit/Booth Designs
Promo Materials
PR & Earned Media
Social Media
Trade Publications
Press Releases
Link Building
Sales Support
Digital & Print Catalogs
Case Studies
White Papers & eBooks
Interactive Demos
Execution
After launching your campaign, we monitor progress and evaluate performance to continuously improve outcomes.
What's Your Challenge?
Our integrated campaigns have helped clients reach prospects both nationally and internationally. Let's develop a plan customized to achieve your goals.