Case Study: Sigma Ink
Product Launch Disrupts the Inkjet Industry's View of Black Inks
They did it again. Kao Collins engineered an innovative inkjet to disrupt a global digital printing industry. Now they needed an expert partner to create intense demand and awareness.
Results Snapshot
Within 6 weeks the world's leading printhead technology company committed to adding SIGMA to its ink portfolio.
Impressions for product-related keywords increased 173% from the first two months after launch.
Quickly captured the top organic search position, beating out an established company with that name.
Campaign lifted leads for targeted products 114% and increased other products by 25% within 4 months.
Boldly convey that SIGMA solvent ink is a revolutionary product, not evolutionary. Make it crystal clear that all black inks just aren't the same. This ink solves the greatest industry frustration: The time a printer can remain idle without the ink drying in the cartridge.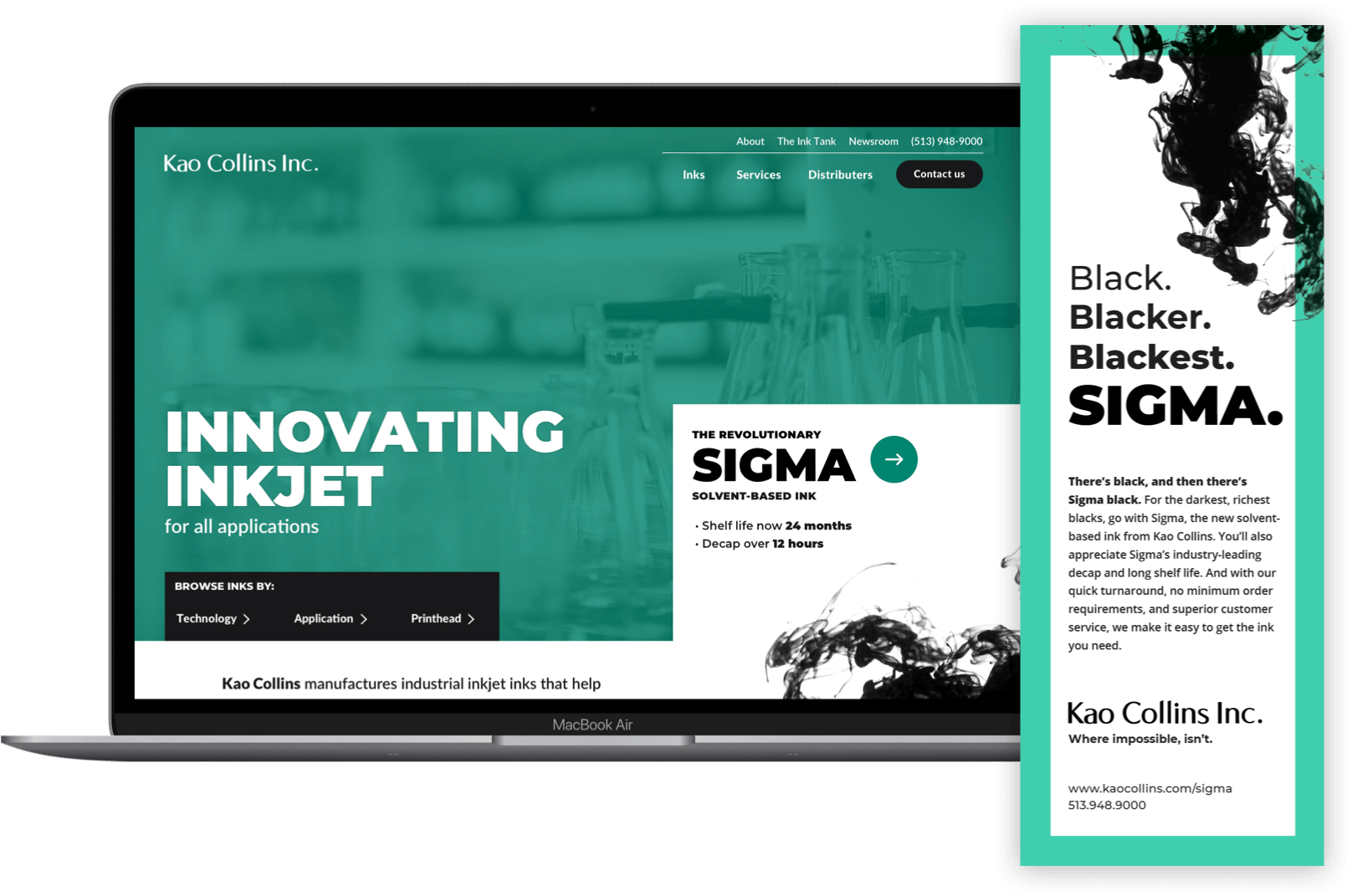 Earned Media
Use public relations to reach industry-related publications to create awareness, establish credibility, and earn valuable links to the website that support SEO.
Organic and Technical SEO
Continually optimize copy and meta coding to elevate both branded and product-related keywords on the SIGMA landing page and in technical content.
Offline Promotion
Create ads for industry trade publications using simple messaging and bold visuals to stand out from the noise. Incorporate a unique URL to measure effectiveness.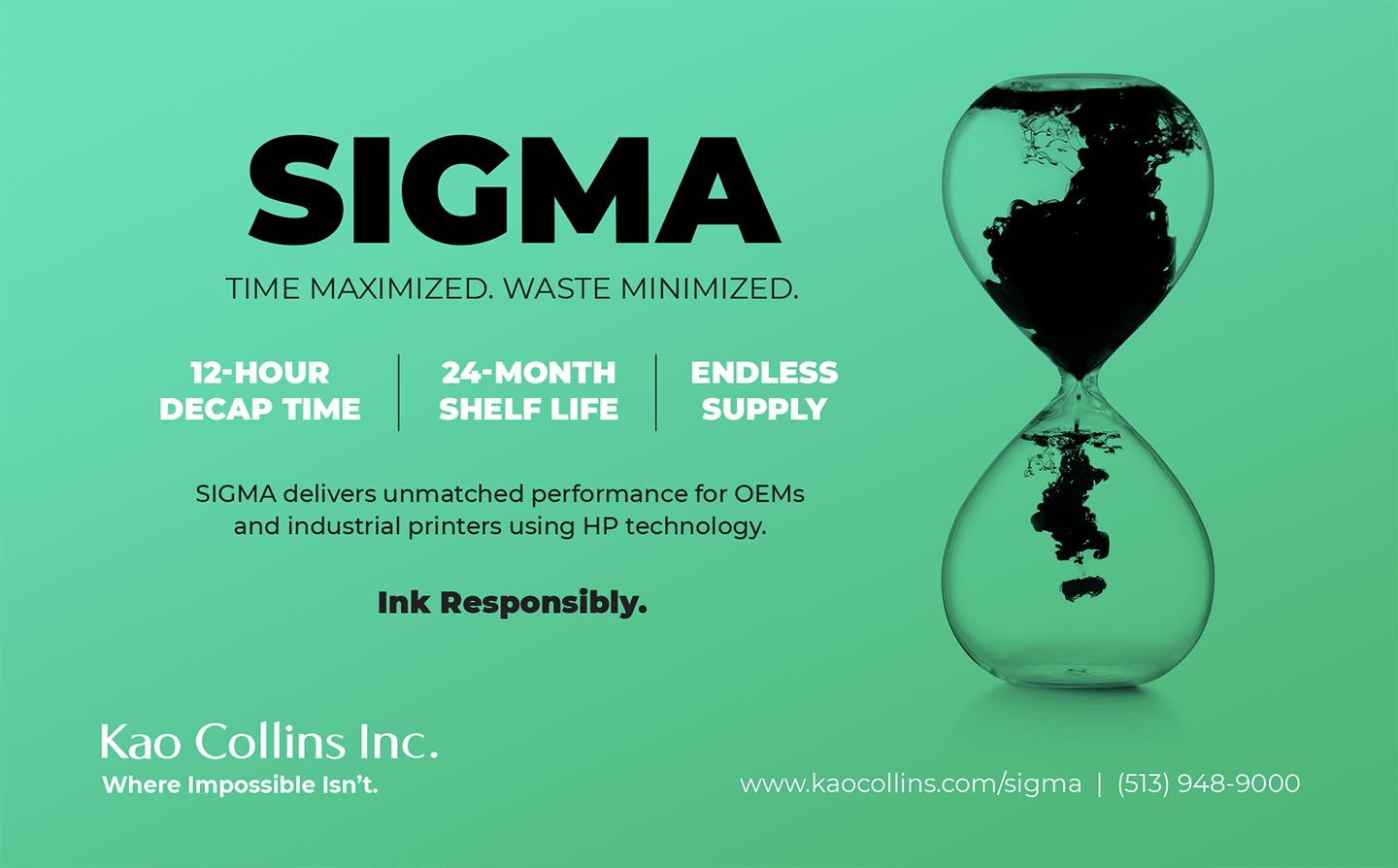 Social Media
Use social media to reinforce public relations, along with the messaging and visuals in trade advertising. Incorporate industry hashtags with branded hashtags.
Expert Content
Produce new technical content connecting the ink's value propositions to industry applications.
Paid Campaigns
Use PPC along with paid social media to target competitors and influencers, with the goal of increasing leads and elevating the brand.
Saturating the Ink Industry with SIGMA
Flood the industry with messaging across omnichannel touch points incorporating bold, energetic messaging and stunning visuals that highlighted the two industry-shattering benefits of the ink. In the end, SIGMA ink dominates the inkjet industry.
The Product Page
The Kao Collins website already exceeds industry averages for speed and best practices. The product page required a design that matched the overall product messaging for a seamless and consistent experience. Also, site visitors had to find the product page with ease. Navigation was updated and prominent callouts were added on key pages that related to the new ink product.
The Print Campaign
Who says black ink is boring? Not us. We built messaging around the technical superiority of SIGMA Ink and developed compelling visuals to make that differentiator memorable. The ads sparked interest in the product, measured through visits from a unique URL.
The Social Media Campaign
Frequent social media posts used story-telling images and messaging that supported SIGMA's value proposition consistent with trade advertising and public relations. Account-based marketing campaigns targeted influencers in major inkjet printing companies.
Proudly Working With