A quick look at the annual GDP growth of countries worldwide shows the immense potential for international business. However, many growing economies have slow internet speeds and need a fully functional 5G connection. International companies struggle to penetrate these emerging global markets because of low bandwidth and poor connectivity.
A Progressive Web App (PWA) helps companies reach and engage users on these digital platforms. And PWAs significantly impact international search engine optimization (SEO).
---
Countries with GDP Growth Above 3%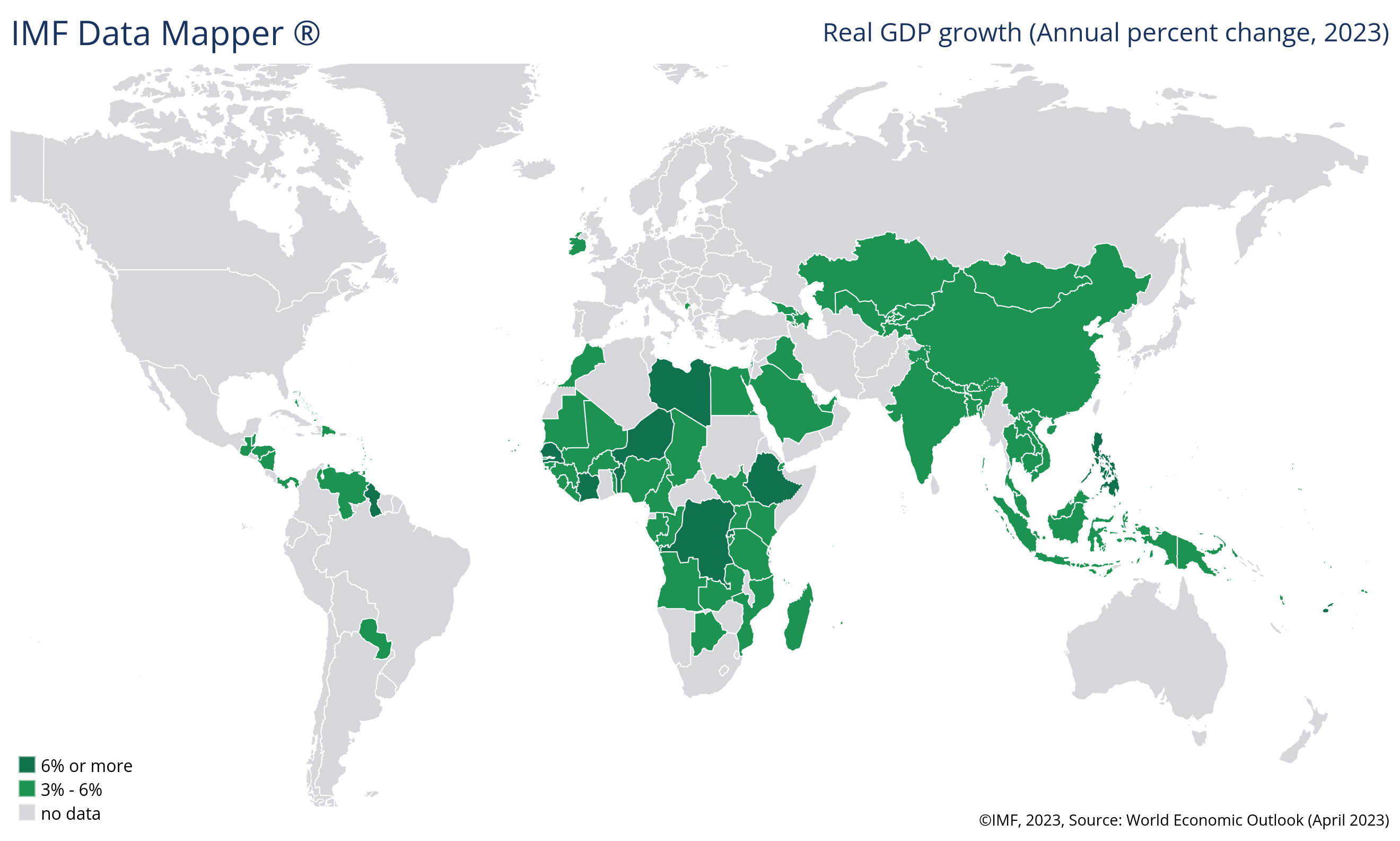 While many countries across much of Africa and Asia have GDP growth rates over three percent, poor internet access creates challenges for digital marketing. Businesses with progress apps have an advantage because users in these countries can access information even when offline. Source: IMF
See the list of average internet speeds for countries.
---
7 Ways International SEO Benefits from a PWA
PWAs can provide a fast, engaging, and seamless user experience across various devices, making them an ideal solution for websites that target audiences in multiple countries with different devices and internet connectivity levels.

While native apps provide a highly optimized user experience and access to device-specific features, PWAs are more flexible, require less development time, and can be accessed through a web browser without needing installation.
PWAs load faster than typical sites, delivering a superior user experience in countries with broadband networks' limited bandwidth. The speed of internet connections varies between different countries and between each business based on their specific requirements.
Irrespective of any network, PWAs are designed to be fast and responsive, which means they load quickly and efficiently, even on slow or unreliable internet connections. This can be particularly important for international audiences with limited high-speed internet access.

There's no question. iPhone and Android users like native apps. The best ones offer a great user experience – with one gaping exception. The apps require a network connection to provide the benefits.
PWAs can be downloaded and displayed on the smartphone just like a native app for the device. It lets you keep browsing the site on your device without an internet connection. Progressive Web Apps work offline, which means users can access blogs, product information, and other details irrespective of connectivity. This benefits international audiences traveling or living in areas with poor or no internet service.

Google's Lighthouse tool for measuring various performance criteria for websites includes PWA because it is considered a best practice for user experience.
Google's benchmarks focus on delivering a fast and seamless user experience, especially on mobile devices.
A PWA does that with fast speeds and responsive design.

PWAs are not native to any platform or hardware, so you can use a PWA whether you have a new or older iPhone, Android, or any connected device with a browser.
That opens your door for more international audiences using various device and operating system options.

All progressive web apps incorporate responsive design but not all responsive websites are designed as PWAs. Both adapt to the screen size of the user's device, ensuring a consistent and optimal experience.
Developing a PWA involves creating several versions of the site to work on different devices.
That's part of what delivers the performance benefits. Non-PWA responsive architecture requires more code overhead which slows performance.

PWA updates instantly to all devices installed or when visiting the website. That means no waiting to download the latest version.
Also, PWAs can send push notifications to users, supporting increased site engagement.
Notifications can be customized for different languages and regions, improving the user experience for international audiences.

PWAs can be built to support multiple languages, making reaching international audiences easier.
This can include using language-specific URLs, implementing hreflang tags to indicate language and country targeting, and providing language-specific content and resources.
How Businesses Benefit from a PWA


Beyond the nuts and bolts overview of how a PWA works, there are the bottom-line results for businesses opting to use the web platform. Based on Google research, a PWA delivers on key performance indicators (KPIs) and goals that most companies use to measure success.
Key Performance Indicators Research Results  
Average bounce rate: 43% lower.
Mobile sessions increased by about 80%.
Page views increased by 134%.
Lead conversions increased by over 50%.
The benefits have a multiplier effect on businesses.

Improving search performance with a PWA increases your chances of winning Featured Snippets that elevate brand awareness and position you as a thought leader.
While PWAs may not directly win a featured snippet, they can help improve your website's overall performance and user experience.
With a well-executed content strategy, a PWA indirectly increases your chances of winning a featured snippet by improving your website's relevance, quality, and user engagement.

Improving search performance with a PWA increases your chances of winning Featured Snippets, elevating brand awareness, and positioning you as a thought leader.
While PWAs may not directly win a featured snippet, they can help improve your website's overall performance and user experience.

Developing your site as a PWA enhances your content's ability to increase inbound search traffic from prospective customers who convert into sales leads.
Users are more likely to return to a website that offers a smooth and efficient experience.
PWAs help businesses generate more leads and improve their overall marketing efforts with what the platform offers: a  better user experience, offline functionality, push notifications, and increased discoverability.
Connect with Customers Worldwide
PWAs offer features and capabilities that support international SEO efforts without prohibitive development costs and ongoing maintenance. Leveraging the features of PWAs provides a path to reach potential customers worldwide.
We develop progressive web apps and native apps. We can help you decide which choice would achieve your goals. Contact us.
---
Internet Speeds by Country
Speedtest® by Ookla® aggregates global data based on individual user testing.
Country
Mbps
Country
Mbps
United Arab Emirates
178.25
Iraq
30.62
Qatar
174.56
Laos
29.97
Norway
143.55
Chile
29.38
Kuwait
135.63
Georgia
28.42
Denmark
129.95
Bosnia and Herzegovina
27.37
South Korea
120.38
Costa Rica
27.26
Netherlands
114.19
Honduras
26.81
China
109.09
Guatemala
25.75
Bulgaria
103.72
Philippines
25.63
Bahrain
102.45
Mauritius
25.62
Saudi Arabia
101.92
Mexico
25.54
Sweden
94.42
Kosovo
25.35
Canada
92.43
Kazakhstan
24.87
Finland
92.15
Tunisia
24.85
Switzerland
85.09
El Salvador
24.60
Australia
84.67
Ukraine
24.42
Croatia
83.48
Egypt
24.30
Luxembourg
82.55
Myanmar (Burma)
24.25
United States
81.26
Kyrgyzstan
23.70
Brunei
78.09
Uganda
23.45
Austria
76.79
Argentina
23.44
Singapore
76.48
Russia
23.39
Maldives
76.34
Armenia
23.17
Estonia
75.67
Cambodia
22.55
North Macedonia
73.52
Namibia
22.35
France
72.25
Nigeria
22.03
Portugal
72.02
Tanzania
21.79
Taiwan
71.27
Côte d'Ivoire
21.76
Lithuania
70.87
Ecuador
21.69
Cyprus
70.52
Kenya
21.60
Greece
67.54
Indonesia
21.35
Latvia
66.92
Jordan
21.25
Germany
62.61
Dominican Republic
20.68
New Zealand
62.53
Fiji
20.60
Slovenia
60.89
Angola
19.35
Oman
58.27
Sudan
18.98
Malta
55.55
Mozambique
18.94
Slovakia
54.97
Papua New Guinea
18.89
Belgium
54.45
Mongolia
18.39
Hong Kong (SAR)
52.07
Algeria
18.08
Romania
48.72
Peru
18.03
Czechia
48.66
Uzbekistan
17.84
Serbia
48.57
Paraguay
17.69
Poland
47.86
Nicaragua
17.43
Malaysia
47.72
Senegal
17.33
United Kingdom
46.86
Zambia
17.13
Italy
46.64
Panama
16.91
Montenegro
46.20
Bangladesh
16.65
Albania
45.38
Ethiopia
16.48
Hungary
44.94
DR Congo
16.47
Vietnam
43.32
Benin
16.40
Japan
42.48
Turkmenistan
16.05
Thailand
40.80
Libya
15.23
Azerbaijan
39.46
Sri Lanka
15.20
South Africa
38.88
Pakistan
15.14
Uruguay
38.64
Nepal
14.28
Ireland
38.14
Zimbabwe
12.95
Spain
37.83
Colombia
12.16
Brazil
37.81
Belarus
12.08
Togo
36.55
Cameroon
11.24
Iran
36.33
Syria
11.22
Botswana
36.21
Ghana
11.16
Morocco
34.60
Bolivia
9.31
India
33.30
Tajikistan
9.23
Jamaica
33.09
Haiti
8.78
Turkey
32.06
Yemen
7.35
Trinidad and Tobago
31.20
Somalia
6.68
Lebanon
31.10
Venezuela
6.59
Moldova
30.94
Afghanistan
4.14
Israel
30.84
Cuba
3.44
Stay Updated
Keep track of the best design, marketing & tech resources delivered straight to your inbox.