The Growth of Social Media Marketing in 2017
DBS Interactive
DBS Interactive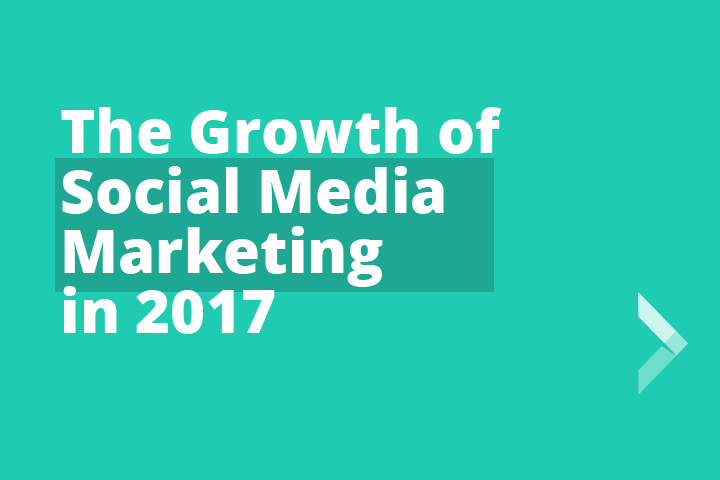 Over the past decade, we've seen social media marketing grow from an overlooked niche tactic to one of the most influential digital marketing techniques used today. What began as a method that was mostly limited to B2C companies has continued to expand across industries and is now utilized by every type of organization, regardless of background. There's a good chance you've at least dipped your toes in the water of social marketing, but you might not realize just how significant the technique has become.
This growth in popularity has been particularly noteworthy of late. In 2016, we saw the role of social media marketing expand beyond lead generation and brand awareness. Some of the core objectives of social marketing have shifted, with a greater emphasis on customer experience leading much of the change. Now, more than ever, it is important to recognize recent trends, acknowledge what other businesses are doing, and understand how to properly use social media in 2017.
The new year will certainly be a big one in terms of new, social-centric marketing campaigns. In fact, surveys have shown that almost 70% of professionals marketers expect to increase their spend on social media activity over the next 12 months–more than any other marketing activity.
One of the most attractive qualities of social marketing is the ease with which businesses can implement new campaigns, regardless of the size of the business. Another is the ease with which video content can be created and shared, which is a major driving force of recent marketing strategies. A recent study that collected data from 1,200 marketers revealed that more than 80% want to create more video content in 2017, with Facebook and YouTube specifically named as two of the key channels that would be emphasized more in 2017.
The growing emphasis on video and the ease of incorporating social platforms continues to take social marketing to new heights. In fact, social media could become the leading marketing activity for digital marketers, in terms of spend and number of campaigns, in the near future. Don't believe us? This has already happened in India.
A survey last year of marketers in India revealed that almost 70% of professionals consider social media to be their number one digital marketing tactic. This was significantly higher than the next most popular tactic: email marketing. This trend shows no signs of stopping, and soon American marketers may be echoing these beliefs.
In addition to easy access platforms and the growth of video content, a newfound dedication to experience of customers has inspired more businesses to develop comprehensive social media strategies. While 85% of businesses are currently using social media to drive traffic and increase awareness, 71% consider community engagement to be the leading motivator behind their social presence, especially when it comes to improving overall engagement and improving underwhelming relationships with clients.
This is due to the lack of options that offer the level of customer engagement social media platforms do. More companies are beginning to embrace the role of social in their marketing strategies as the benefits of connecting with consumers become apparent. Effective social media strategies give these companies an opportunity to reach out and support customers in new and exciting ways. Given the availability of different channels like Facebook, Twitter, and YouTube, the ability to mix things up and keep everything fresh goes a long way in developing closer relationships.
Some of the most striking numbers surrounding the expansion of social media as a digital marketing tool:
>220 Million: Number of new social media users from this past year.
>93%: Percentage of marketers that say their business is actively using Facebook for strategic purposes.
>89%: Marketers polled that say their business is currently using Twitter in their digital marketing strategy.
>42%: Percentage of digital marketers that said their spend on social media increased in 2016.
>72%: Percentage of surveyed marketers that say the use of social media in their digital marketing strategy has remained the same or increased over the past year.
>71%: Digital marketers that say they always use visuals in their social media marketing.
>58%: Percentage of marketers that say using social media to drive traffic to their websites is the most important use of the technique.
>83%: Digital marketers that say creating more video content would be their number one priority if they had more time and resources.
>42%: Marketers that said they would invest in live video if time and resources were not a factor.
>26%: Percentage of digital marketers that are looking to add Instagram to their digital strategies in 2017.
>22%: Percentage of digital marketers that are looking to add Snapchat to their digital strategies in 2017.
It is important to recognize the continued expansion of social media marketing and understand how best to utilize it. While it is only one facet of a complete marketing strategy, the significance of its role continues to grow. If you're not actively using any social platforms, get on it! If you are, consider recent trends and address whether you are using social media to its full marketing potential.
Stay Updated
Keep track of the best design, marketing & tech resources delivered straight to your inbox.