Examples of Industrial Content Marketing
DBS Interactive
DBS Interactive
Let's lay the cards on the table. Industrial content marketing should not be boring, institutional research papers presented by that professor who hasn't ventured outside the classroom since Radiohead released "Creep" in 1992.
Content is king. And the best content attracts and engages readers in industrial sectors with relevant and valuable information in various forms. Before B2B prospects look at products and tech specs, they want information that addresses their pain points.
This type of marketing aims to educate (without preaching or lecturing), inform, and build trust with potential customers., with the ultimate goal of driving profitable customer action.
In a report by MarketingProfs, 75% of B2B buyers said that content significantly impacts their buying decisions. Another report by Demand Gen found that 47% of B2B buyers viewed 3-5 pieces of content before engaging with a sales representative.
Industrial Content Marketing Examples
Various industrial content marketing strategies can be implemented based on customer goals and objectives.
Produce content that appeals to your industrial audiences in different stages of their buying journey (Awareness, Consideration, and Decision).
Case Studies
Creating detailed case studies about how your product or service helped solve specific problems for industrial clients is an effective content marketing technique. They help visitors see themselves.
Case studies can be shared on your website, blog, social media platforms, and email marketing campaigns.
Example: The Toyota Production System (TPS) case study showcases the importance of continuous improvement and waste reduction in manufacturing. The information became the benchmark for lean manufacturing practices.
White Papers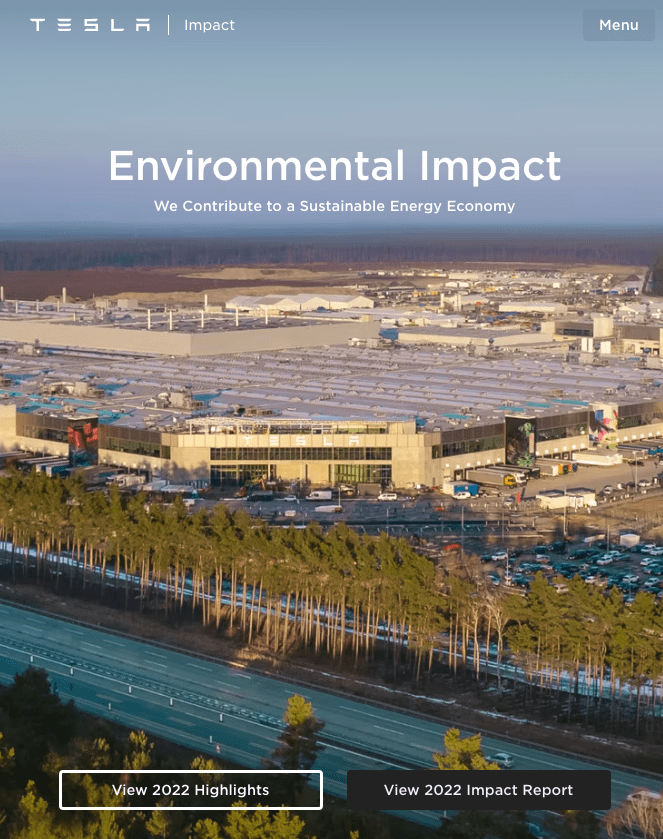 Industrial companies create white papers that delve into a specific topic or problem common to many in their target audience. The white paper provides in-depth analysis, research, and insights.
Businesses often require an email address for access to what is viewed as high-value content. Request forms usually try to segment users to qualify lead quality.
Example: A Tesla white paper highlights the company's commitment to sustainability and provides a vision for the future of mobile sustainability.
Infographics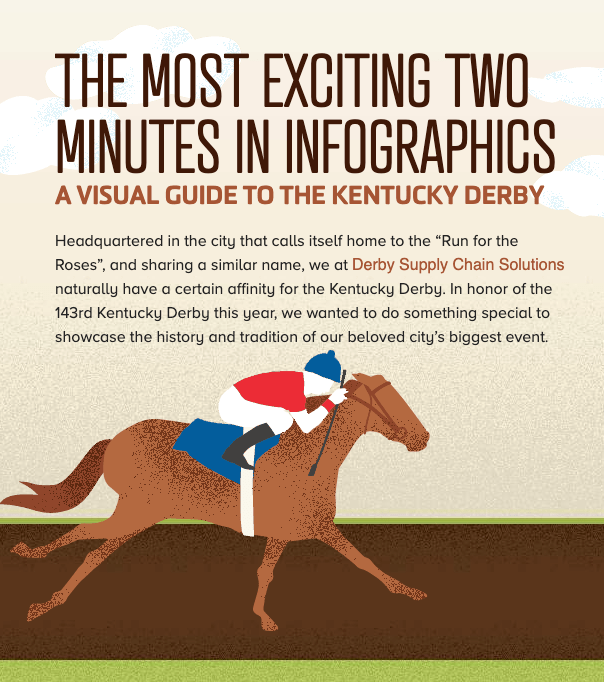 Creating visually appealing infographics that provide valuable information about your industry can be a great way to attract and engage your target audience. Industrial companies can use infographics to communicate complex technical information in an easy-to-understand format.
Example: Headquartered in Louisville, the home of the Kentucky Derby, the logistics company Derby Supply Chain Solutions developed an animated infographic to celebrate the event.
Videos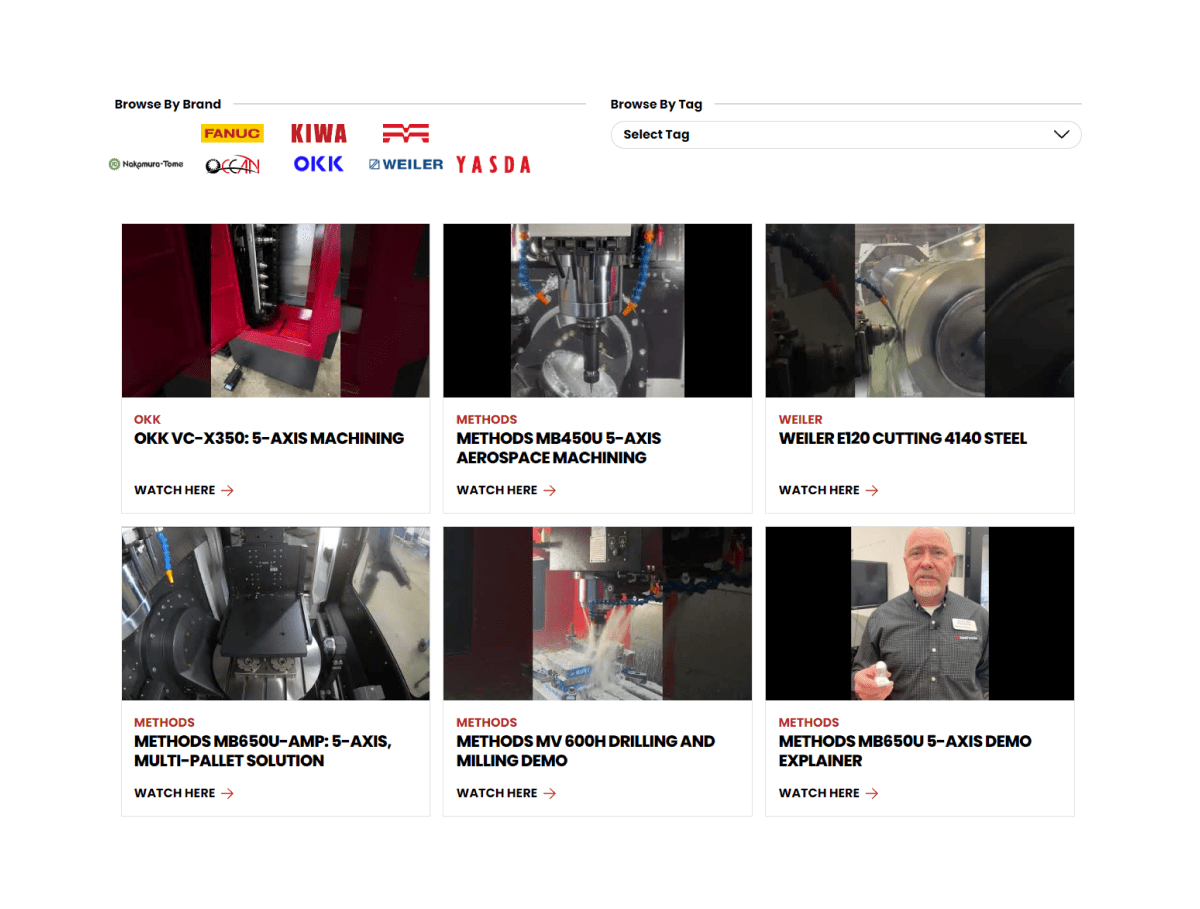 Creating videos that showcase your products or services can help industrial companies explain the benefits of their offerings more engagingly and interactively. Videos can be shared on social media, YouTube, and other platforms.
Example: Methods Machine, a U.S. importer of CNC machining equipment from the world's leading manufacturers, uses videos to take viewers inside these precision machines.
Webinars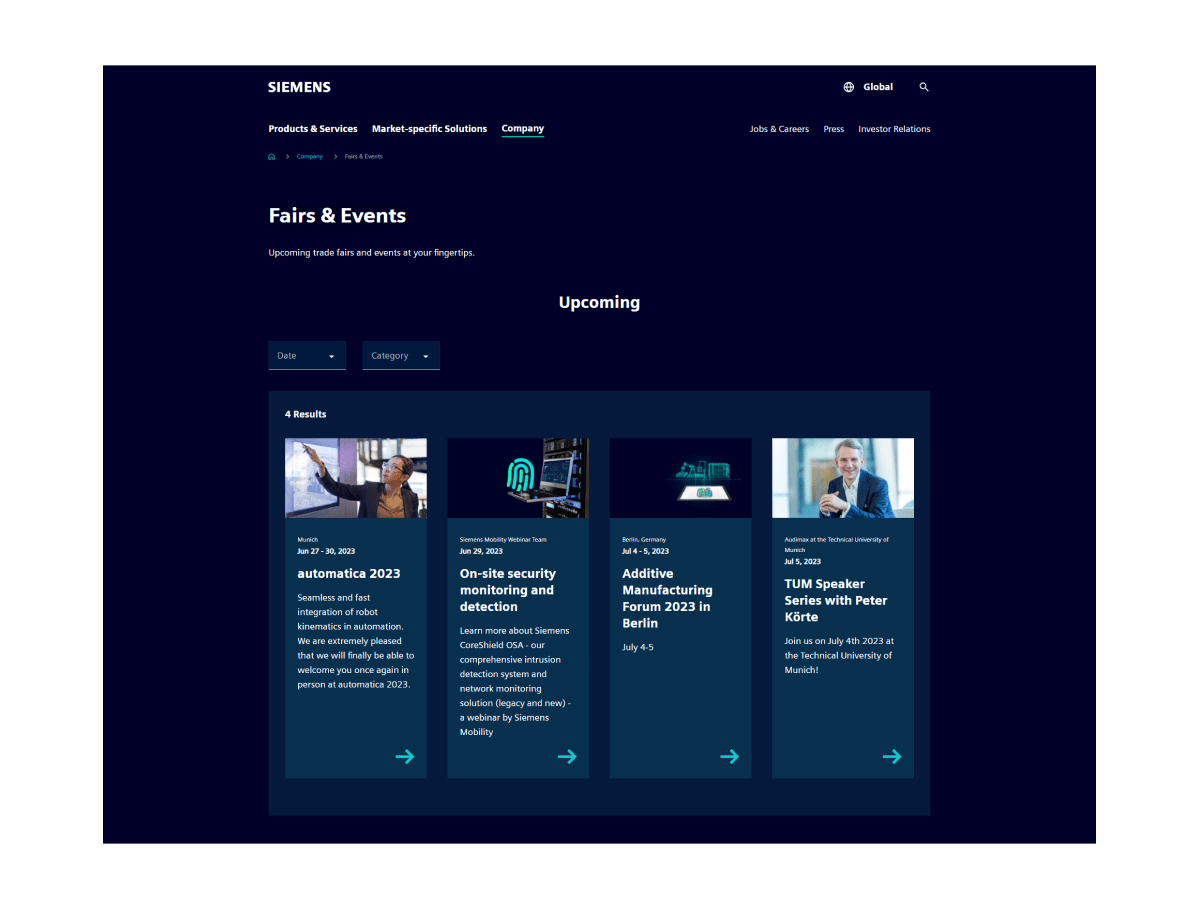 Hosting webinars on relevant topics can be an effective way for industrial companies to educate their target audience about their products or services. Webinars can also be a great way to generate leads and nurture prospects.
Example: Siemens company website features a library of webinars for their industrial audiences that provide valuable insights into digital transformation for manufacturers.
Blog Posts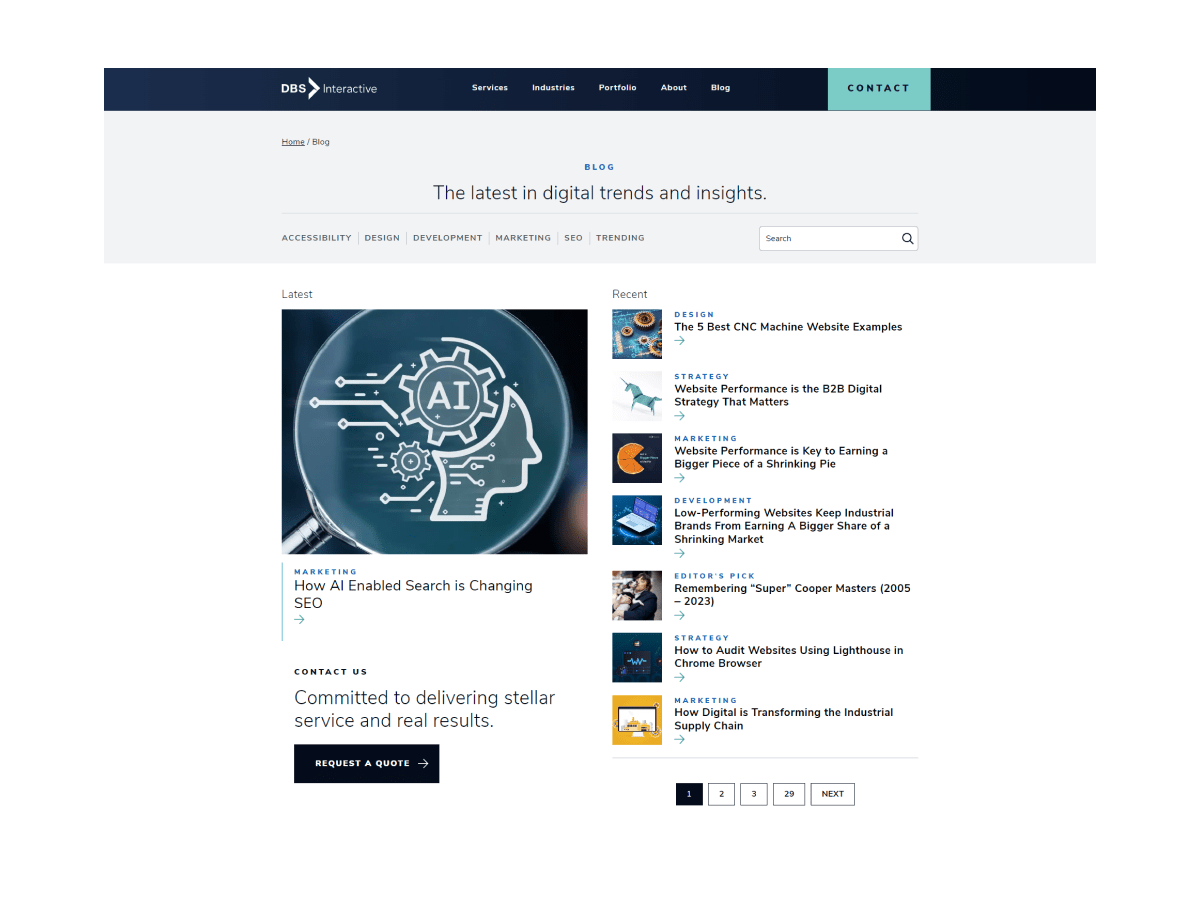 Whether they are called articles, blog posts, or insights, long-form content should deliver high-value content on relevant topics with helpful tips and advice. Carefully researched and structured articles support search optimization for targeted keywords.
Blog posts are one of the ways a company positions itself as a thought leader. Blog posts deliver high utility because the content can be leveraged to produce social media posts and other content devices. It offers clear pathways in the user journey to a company's products and services. According to a HubSpot study, industrial companies with blogs generate 67% more leads than those without.
Example: Every Blog on the DBS website is carefully researched, and the contents are relevant to specific industries that resonate with every audience. It positions the digital agency as thought leaders and subject matter experts.
E-books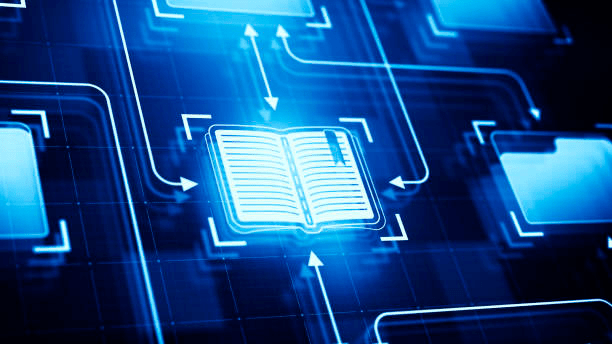 Creating e-books, while similar to white papers, provides in-depth information about a specific topic to generate leads and educate your target audience.
E-books can be shared on your website and through email marketing campaigns.
Example: "The Future of Industry 4.0" by IBM is an excellent e-book example. It educates companies about the benefits and challenges of Industry 4.0, a digital-driven evolution of manufacturing and production.
By providing real-world examples and strategies for success, IBM helps companies implement digitalization and automation in their operations and stay competitive in today's business environment.
Podcasts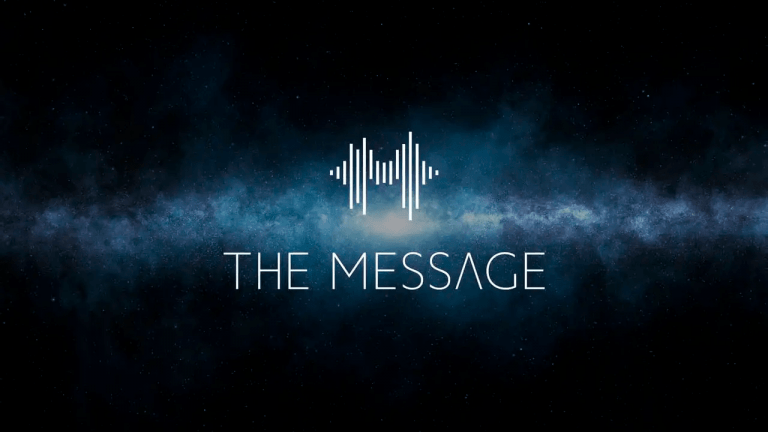 Industrial companies can create podcasts that cover relevant industry topics and trends.
This audible content can be a great way to reach a new audience and provide valuable insights to your existing audience. The audio can be repurposed into videos to increase the reach and SEO opportunities. Podcasts have a low barrier to entry, with opportunities for connecting and engaging with an audience.
Example: General Electric attracted attention with a unique approach to podcasting. The company produced a science fiction series called "The Message," crafted by playwright Mac Rogers. The series garnered substantial downloads and secured the top spot on iTunes charts. The content associates the brand with imagination and innovation.
Providing Information Throughout the Industrial Customer Journey
Industrial prospects cast a wide net during the Discovery Stage of their journey. They are narrowing down their problem.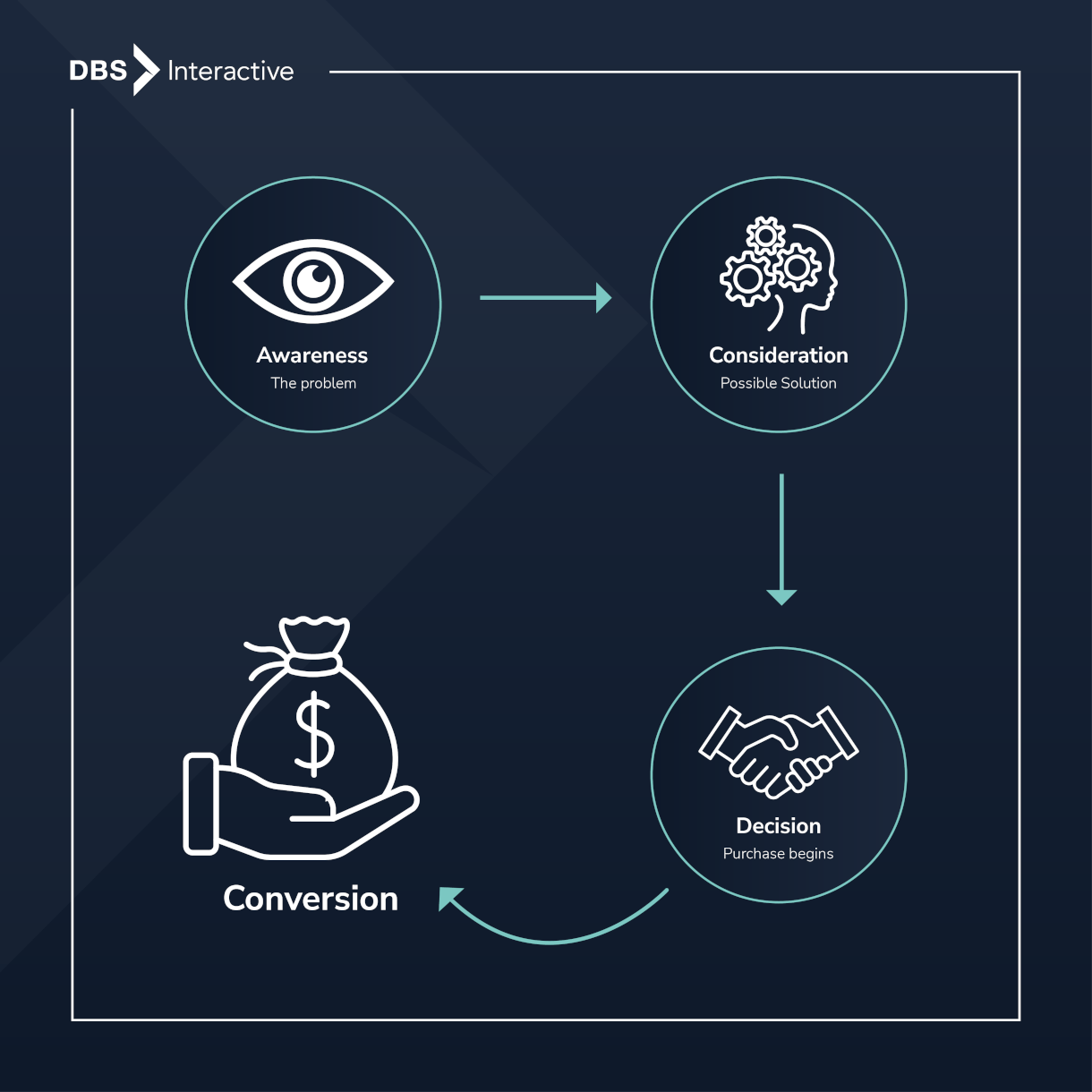 Information that helps them look at an issue from multiple perspectives creates a connection with your company.
Once the problem is identified, they move into the Consideration Stage and consider possible solutions. There may be multiple potential vendors, and each may offer various solutions. This is the stage where your content marketing should go beyond basic information and emphasize your unique value proposition to help differentiate you from competitors.
Lastly, as prospects enter the Decision Stage, they begin evaluating the details of a possible purchase or contract agreement. Now that they fully understand the details and options that set your business apart, they can more easily compare your offerings to industry competitors.
The Biggest Benefits of Industrial Content Marketing
According to the Content Marketing Institute, 86% of manufacturing marketers use content marketing. The following are the benefits of using content marketing.
Building Brand Awareness
By consistently creating and publishing valuable content, industrial brands can increase visibility and establish themselves as thought leaders. Your content needs to reflect the voice of your brand and the tone appropriate for the platform where the content is published. The voice remains consistent, while the tone can vary.
Increasing Organic Lead Generation
Industrial content marketing helps generate leads by attracting potential customers searching for information about products or services within the industrial sector. Effective content entices users to take the next step to contact you like a fly fisherman presents the right fly at the right place.
Growing Customer Engagement
By providing informative and relevant content, industrial brands can engage with their target audience and build relationships that increase loyalty and repeat business. Content that holds a visitor's attention is a positive signal. The next stage involves interacting. Comparison tools, search tools, and clicks from an email or social media reflect engagement. The subsequent steps users take must create value and satisfy their curiosity.
Differentiating Your Brand
In a crowded and competitive market, industrial content marketing can help to differentiate a brand from its competitors by showcasing its expertise and unique value proposition. Start with what your loyal and new customers say about why they chose your company or stay with your company. Tell this story in different ways at every opportunity. The obvious ways to do that are testimonials and case studies. Subtly weave the unique value proposition into images you chose and phrases you use in all your content.
6 Best Practices for Industrial Content Marketing
Industrial content marketing can be a highly effective way for industrial brands to increase their visibility, generate leads, and build relationships with their target audience, ultimately driving business growth and success. Unlike pay-per-click advertising, content marketing is the gift that keeps on giving. When you stop running ads, your name disappears.
Following these best practices for content marketing ensures your content appears when your prospect needs you and discovers you through organic search.

1
Identify Your Target Audience(s)
"Reading the room" applies to content marketing, like interpersonal interactions. To create compelling content, you must understand your target audience's needs, pain points, and challenges.
Knowing what action must be taken to resolve their challenges drives content decisions. This helps you create content that resonates with the audience and provides them with valuable information.

2
Only Create Valuable Content
Your prospects and search engines value high-quality content. It's better to produce less content of higher quality than push out massive amounts of weak material. Avoid creating content just to check boxes; instead, focus on creating content that is informative, engaging, and relevant to the industry.
Your content must have depth, data, and current industrial statistics to support the information.
Content that ranks high in search results often has 1,800 to 2,400 words, but that is more correlation than causation. In other words, just like in high school or college, adding extra words to make your content a certain length won't automatically elevate the quality or performance of your work.
Tips for Finding Industrial Content Ideas
A secret gold mine of possible content topics can be found through keyword research. If you have Google Search Console hooked to your website, you can view the search keywords that have generated your website as a Google Search result. You can also see the number of clicks generated by these queries.
Look for patterns and groups of keywords. Users tell you what they need, and Google tells you how well your site matches what they're looking for. If you see keyword phrases in the form of a question, consider adding those as Frequently Asked Questions on the appropriate pages of your website.
3
Map Your Customer Journeys
Forget yourself and get inside the heads of your customers. Mapping customer journeys involves anticipating the next step for your prospects at each stage of their buying decisions.
Visualizing the buyer's journey can become complicated since industrial business ecosystems are typically vast and complex.
Analytics are a good starting point because they offer valuable insights to validate customer behaviors. These key performance indicators (KPIs) can show how site visitors behave. They often relate to each other. For example, a short time on a page is not necessarily bad or good. It depends on the next step in the site visit.
Industrial content marketing can take many forms, including blog posts, white papers, infographics, videos, webinars, and more. Using a variety of content formats can help you reach a wider audience and keep your content fresh and engaging to each audience. Then, evaluate what performs best.

4
Promote Your Content on Multiple Channels
Creating great content optimized for search performance is only half the battle. That works well for someone who has an idea about the answer needed.
You must promote content in various ways to spark curiosity. This includes sharing your content on social media, emailing it to your subscribers, using paid promotion periodically, and link building. A multichannel integrated approach is critical to reaching a more comprehensive industrial audience.

5
Measure and Monitor Your Content Success
To determine the effectiveness of your content marketing efforts, you need to track your results and measure your ROI. The KPIs will vary based on content type, goal, campaign, and audience. Use tools like Google Analytics to track traffic, engagement, and conversions, and use this data to optimize your content strategy and improve your results over time. Google's Search Console offers deep insights into keywords.
Website KPIs to Consider
Bounce Rate
Time On Page
Scroll Depth
Pages Per Session
Conversions (and conversion rate)
6
Revise and Repurpose Content to Leverage Opportunities
Look at content through different lenses to get the most out of the research and production and present the same information differently. The research first used to produce an infographic can be fleshed out to create an article or even an e-book. Also, the same content themes can be recrafted to support users in different stages of their buying journey.
Partner with Industrial Content Experts
We presented a lot of information here. Industrial content marketing can be overwhelming, but it doesn't have to be!
Let us help you get started. Contact us to set up a free consultation so we can tell you the best way to achieve your content marketing goals.
FAQs About Content Marketing
Industrial content marketing is creating and distributing content specifically designed to engage and educate target audiences within the manufacturing or industrial sector.
Industrial content marketing is important because it helps manufacturers and industrial companies build trust with their target audience by providing valuable and relevant information. It also helps establish the company as a thought leader in the industry, which can lead to increased brand recognition and customer loyalty. Most importantly, it generates potential leads for businesses.
Common types of content used in industrial content marketing include blog posts, whitepapers, case studies, e-books, podcasts, videos, webinars, infographics, and social media posts.
Industrial companies can measure the effectiveness of their content marketing efforts by tracking metrics such as website traffic, engagement rates, lead generation, and sales conversions.
Stay Updated
Keep track of the best design, marketing & tech resources delivered straight to your inbox.