Customer acquisition or customer retention? Which one offers more bang for your buck?
The answer: Both. 
Building a B2B brand that acquires and retains customers takes a lot of hard work. That's on top of producing your company's bread and butter, the high-quality products and services.
Customer acquisition and customer retention are two sides of the sales coin. Get prospects in the door and keep them coming back as repeat business.
The goal of B2B marketing is much the same: Attract new prospects while maintaining valuable existing customers. Research by Frederick F. Reichheld and his colleague Phil Schefter, published in Harvard Business Review, shows that increasing retention by 5% increases profits by 25% to 95%.
Businesses must hold onto their market share and snag a larger share of the remaining audience. At the same time, the pie gets smaller because of mergers, acquisitions, and economic downturns.
Let's outline why a high-performance website matters and some work you can do to keep it running.
B2B Marketing is More Difficult Now
B2B marketing is not easy, and recent events have made it even more difficult. B2B marketers have a rough time closing deals. So, what are some of the challenges B2B marketers face that hinder customer acquisition and retention?
A comprehensive report from Demand Gen outlines the challenges B2B marketers face in a buyer-centric marketplace:
Biggest Challenges for B2B Marketers
Understanding buyers' changing needs and business requirements
Engaging buyers at the right time in the right channel
Equipping sales teams with the right content to engage and accelerate targeted buyers
Orchestrating digital campaigns that integrate the sales team across multiple customer lifecycle stages
These sales-pipeline hurdles can be overcome.
The most common customer retention and acquisition roadblocks stem from a few root causes, including, a lack of skills and experience; underperforming content; an unclear B2B marketing strategy; and failure to perform ongoing marketing.
B2B Trade Shows are Coming Up Short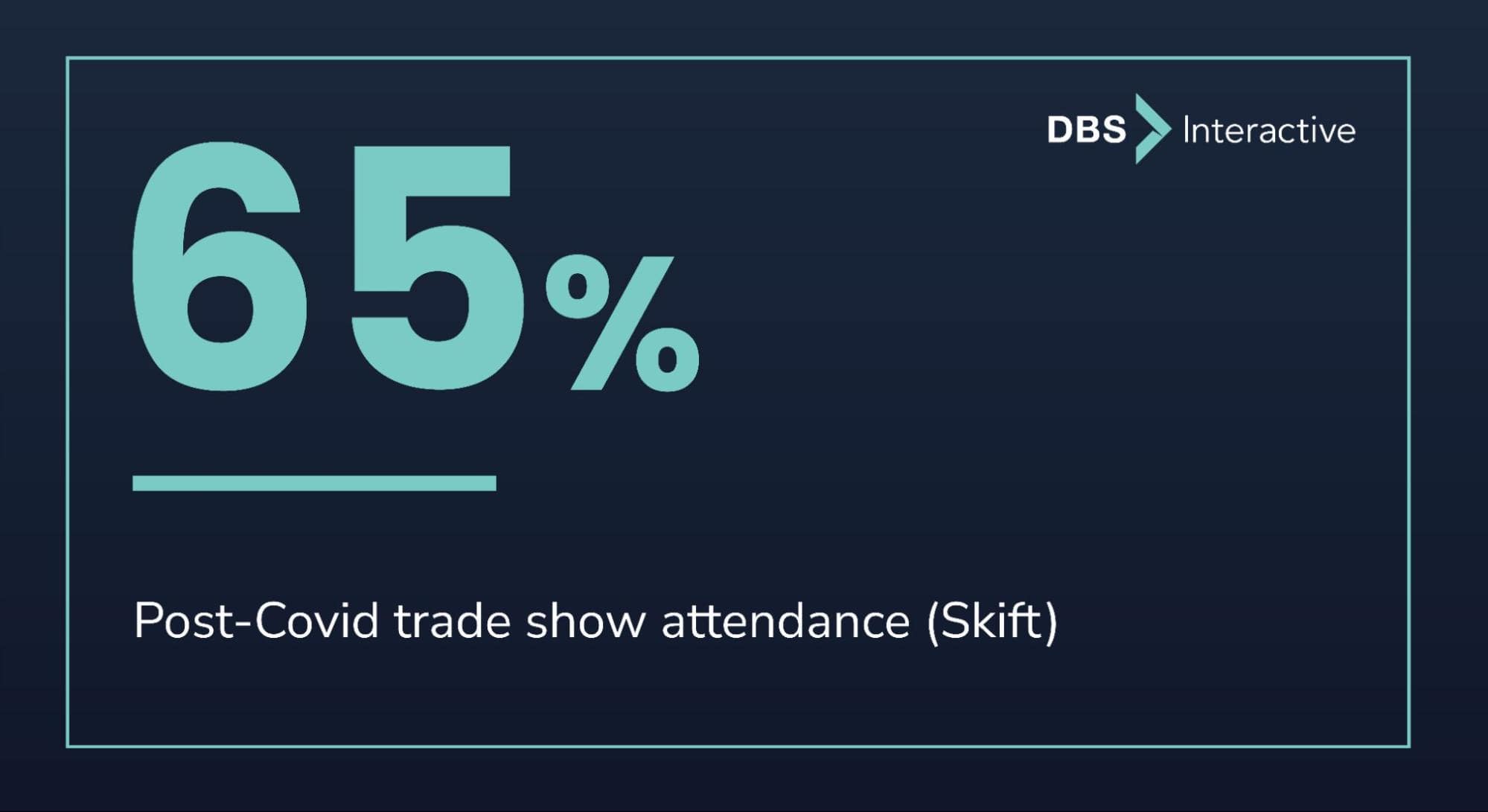 The B2B marketing world is changing rapidly. Once a reliable lead generator, trade shows never fully recovered from the shutdowns during the global Covid pandemic. Attendance and exhibitor participation today is about 60% of pre-Covid numbers.
Participating in these events carries a high price tag for exhibitors, adding to their struggle to achieve a solid marketing ROI. What's the answer in these tougher times?
Websites Help Avoid Slow or Stagnant Growth
A solid marketing strategy – digital or traditional – must include a high-performance website. Especially in B2B, websites serve as the digital storefront where prospective customers enter, access high-value content, find products or services to buy, tap into company experts, and generate sales inquiries.
The buying journey, from initial need to final purchase, can differ dramatically between B2B and B2C/eCommerce audiences. B2B buying may take months, whereas a B2C purchase happens quickly.
Still, the two types of businesses must deliver a similar brand experience.
For B2C, the website visitor is buying a product and wants to find and purchase their product quickly. For B2B, visitors want to find high-quality information quickly that helps them decide whether to make their purchase, so they "buy" (consume) content they believe is worth their time.
Your Website is the Digital Marketing Hub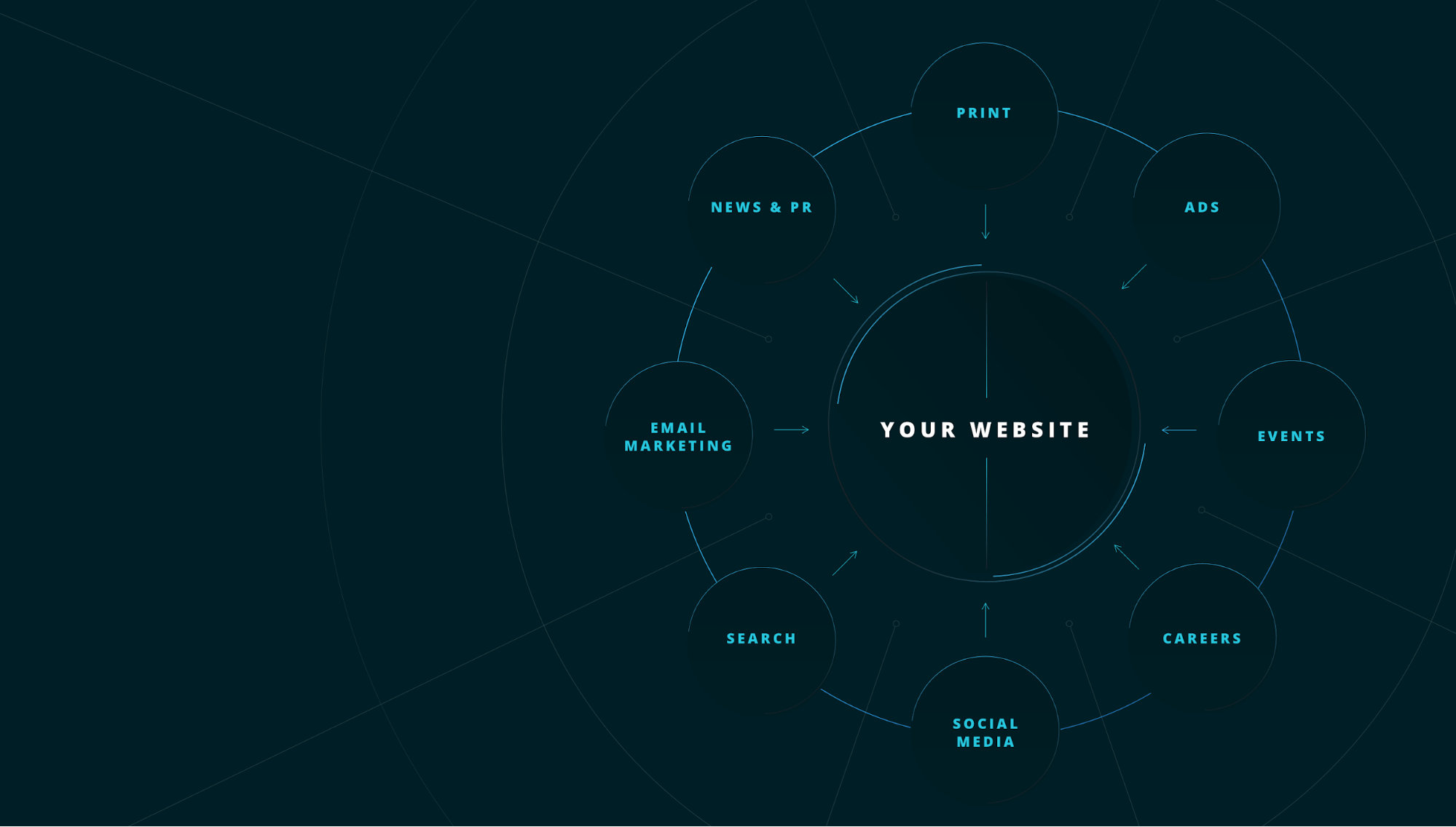 Paid advertising will get you seen. Public relations and media mentions will get you noticed. Email marketing will get you click-throughs, and social media will get you shared.
All these pathways, and in fact all audience interactions, eventually flow to and through your B2B website.
Your site is the Grand Central Station where everything passes through. Nothing does more work than your website, and nothing can tell your company's story as comprehensively as a website–except maybe an on-site visit to the manufacturing plant or factory floor.
That's why your site's search performance and user experience require your continued investment and attention.
Why a Website is the Most Vital Piece of a B2B Marketing Strategy
Brand positioning. The website digitally positions and profiles your brand through its content, messaging, and design structure. A website establishes and reflects your brand's attributes, strengths, values, and unique selling proposition.
It's a relentless sales rep. As your 24/7, 365-day window to the world, the website reaches your prospects, gathers leads, and increases conversions even when your offices are closed outside of business hours.
Content is king. The website is your content hub. It systematically feeds your prospects with information, provides a home for your thought leadership, and drives search performance that brings in more traffic organically.
Insights drive action. Analytics offers a comprehensive perspective on website visitor behaviors and engagement, generating business intelligence that can be used for making minor or major adjustments to marketing and branding strategies.
Success Depends On More Than Keywords
Your quest to leverage your company website for getting more market share requires more than identifying high-performance keywords and creating a flashy design. On top of that work, the site must perform better than your competitors' websites and offer users a flawless experience.
Set the Bar for Performance
Look beyond having your website perform better than your competitors. That's likely a low bar, considering DBS Interactive analyzed 200 industrial websites of manufacturers and found that the majority performed poorly for Google's performance metrics.
Your prospects are often introduced to your brand through the company website. Imagine their reaction to a site that loads slowly, has broken links, and is poorly organized.
That's a poor first impression. The website must reflect your brand's commitment to quality, just like your products and services. That means striving to meet the latest best practices for website experience.
The Benefits Of A High-Performance Website
Building and maintaining a high-performance website brings many benefits to B2B brands and increases their opportunities to grab a larger audience share. An optimized website delivers results that include:
Greater Credibility: Visiting a brand's website has become the first step web visitors follow to establish the credibility and authenticity of a brand. Websites display trust signals that prove the authenticity of a brand.
Higher Google Ranking for Discoverability: No users want to keep scrolling through pages of Google search results to reach your website. Higher rankings mean more traffic, leads, conversions, and sales revenues.
A Great User Experience: Visitors to B2B websites expect their experience to match the best B2C websites: fast and intuitive.
The Secret Sauce to Top Rankings in Search Results
Developing the website properly is just the start. For your B2B marketing strategy to effectively generate new business leads, you must position your website to rank at the top of search engine results pages.
Google wants websites to perform better because that improves its search results and the overall experience for Google users. As the quality of your site's user experience increases, it gives search users who click on your listing more satisfaction and confidence in Google Search – a win-win.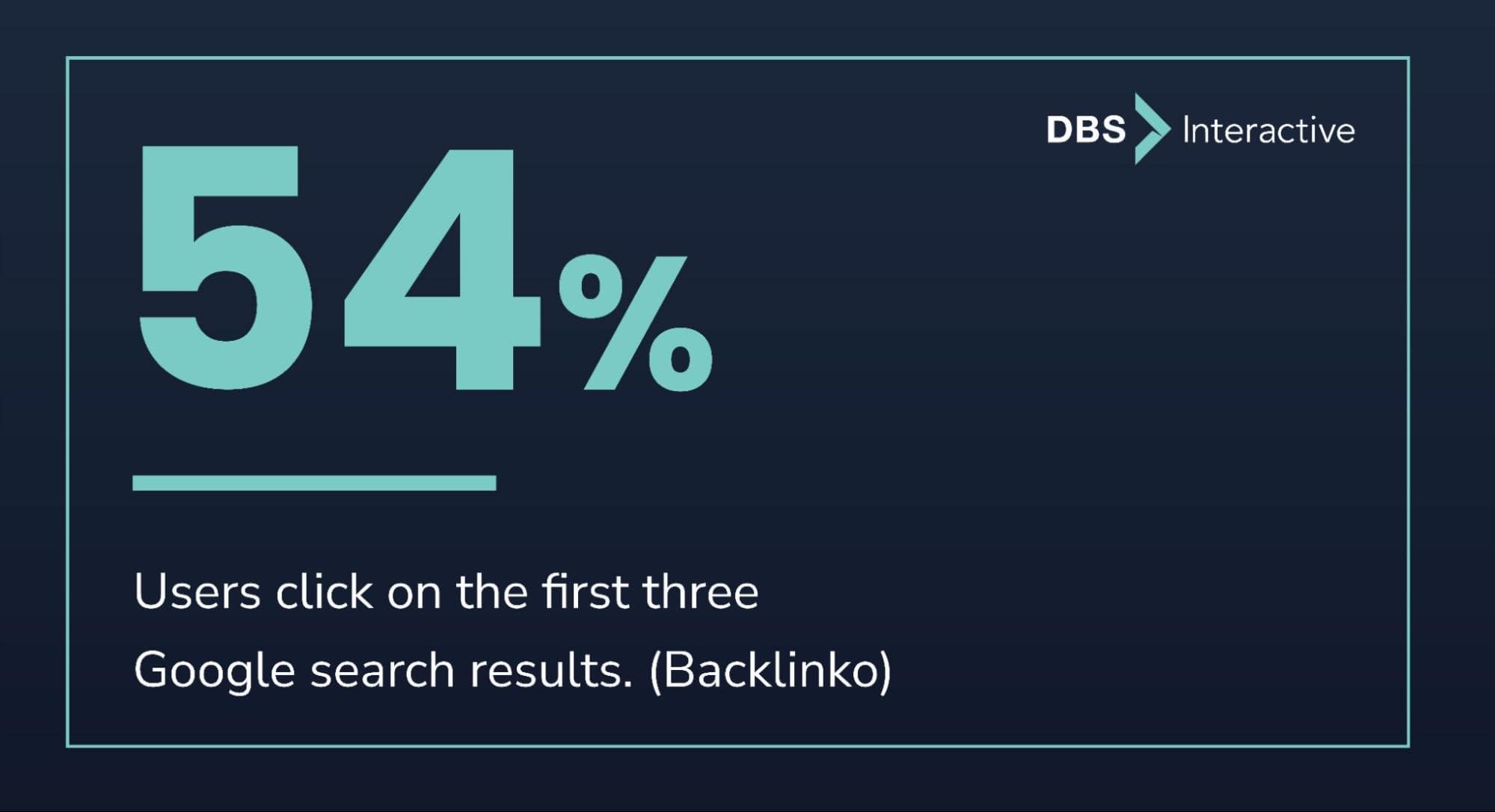 Ranking high means your prospects can easily find and transact with you. In fact, 54% of search users click on the first three organic search results.
Technical SEO, the secret sauce, does the additional work beyond high-quality keywords and stunning design. Technical SEO involves coding, server architecture, and other work "under the hood" of each page.
Your in-house development team may perform some work to achieve a boost from Technical SEO, depending on their skill set. But there is likely Technical SEO work that will require hiring an external vendor with experience optimizing page speeds.
Use Google Lighthouse to Score Your Website
It's unlikely a B2B website can drastically improve search rankings with keyword-rich content alone, so it's important to know how your site measures against Google's performance thresholds. That's where Lighthouse comes in.
Google Lighthouse is a free, open-source tool for measuring website performance that analyzes various metrics and provides insights into what is needed to enhance the website's overall user experience.
If you're using Google's Chrome browser, you can easily access Lighthouse to test any website page you visit.
What Does Lighthouse Evaluate?
The Lighthouse test audits a website page in five areas, offering insights into any shortcomings detected in each category:  

Performance:

Simply put, this test measures the time it takes for the website page to load. In technical web speak, it includes the

First Contentful Paint (FCP)

that marks the first point when a user can see anything on the screen. The

speed index

displays the speed at which web page content is visibly populated. The

Largest Contentful Paint (LCP)

measures the time it takes to render the largest visible elements on a web page. The

time to interaction (TTI)

identifies cases where a web page seems interactive to a user but isn't. 

Accessibility:

This measures how usable your website is for all web users in all their diversity. As a best practice (and in many countries, a legal requirement), B2B websites should perform equally well for all web visitors, including those with visual, motor, hearing, or cognitive impairments.

Best Practices:

The metric includes several audits of your website against web development best practices that are necessary for creating a secure and high quality browsing experience.

SEO:

This metric analyzes your page to ensure basic components are optimized for indexing and ranking the website in search engines.
Progressive Web App (PWA): This metric validates the website's functionality as a Progressive Web App or "PWA". PWAs combine the power of web and app development to deliver enhanced website capabilities, responsive design, and fast loading times for all website visitors, regardless of their device or internet connectivity.
Get Started with Technical SEO
Your marketing team produces excellent content with relevant keywords and compelling messaging. Technical SEO requires a host of different skills.
And if that's not challenging enough, Google moves the goalposts with each algorithm update. In the meantime, website development best practices and digital accessibility requirements change often.
It's tough to keep up. Some digital marketing teams may have the expertise to perform rudimentary technical SEO. Here's a look at some of both the simple and complex work involved.

Grab the Low-Hanging Fruit
| | |
| --- | --- |
| Simple Tactic | Expected Results |
| Optimize images | Your pages will load faster, and images will be higher quality and display properly on mobile devices. |
| Avoid landing page redirects | You will earn more trust from website visitors and search engines. |
| Add ALT text to images | You will be more compliant with accessibility requirements and improve your SEO. |
The More Complex Work Needed
Deeper expertise will be needed for technical SEO that improves performance at the code level. Some of the recommendations for achieving this level of optimization include:
Minimizing render-blocking resources
Using a Content Delivery Network (CDN)
Minimizing server requests
Leveraging browser caching
Eliminating unused CSS
Deferring non-critical JavaScript
Serving images in next-gen formats
Optimizing URLs with keywords
Identifying long-tail keywords to optimize content
Applying keyword-focused content tagging
Adding schema markup coding
Development and design for accessibility compliance
In addition to this partial list, the upkeep of a website involves staying current with the latest best practices. Google's search engine updates often require making website adjustments to meet explicit and implicit requirements.
Businesses Focus On Core Products and Services
Your website must meet the performance expectations of your customers to succeed. Achieving this goal requires unique expertise and ongoing maintenance, just like manufacturing equipment.
But the main priority for a B2B company is to provide high-quality solutions, so its experts are better served by focusing on developing and improving their products and services, not maintaining the website.
Capturing more market share through increased awareness and lead generation will require improving your website's user experience and SEO at the code level, along with intuitive design and digital marketing expertise. Outsourcing these services to a full-suite digital agency means you have more time for business development.
We can do the heavy lifting to improve your website's performance scores and help you snag a larger piece of a shrinking pie.
Contact us  Learn how we do it.
Stay Updated
Keep track of the best design, marketing & tech resources delivered straight to your inbox.