Service
Mobile App Development
Mobile devices are vital to reaching customers and your workforce. That's why our mobile applications are custom-designed to engage your audience, achieve your business goals, and elevate your brand.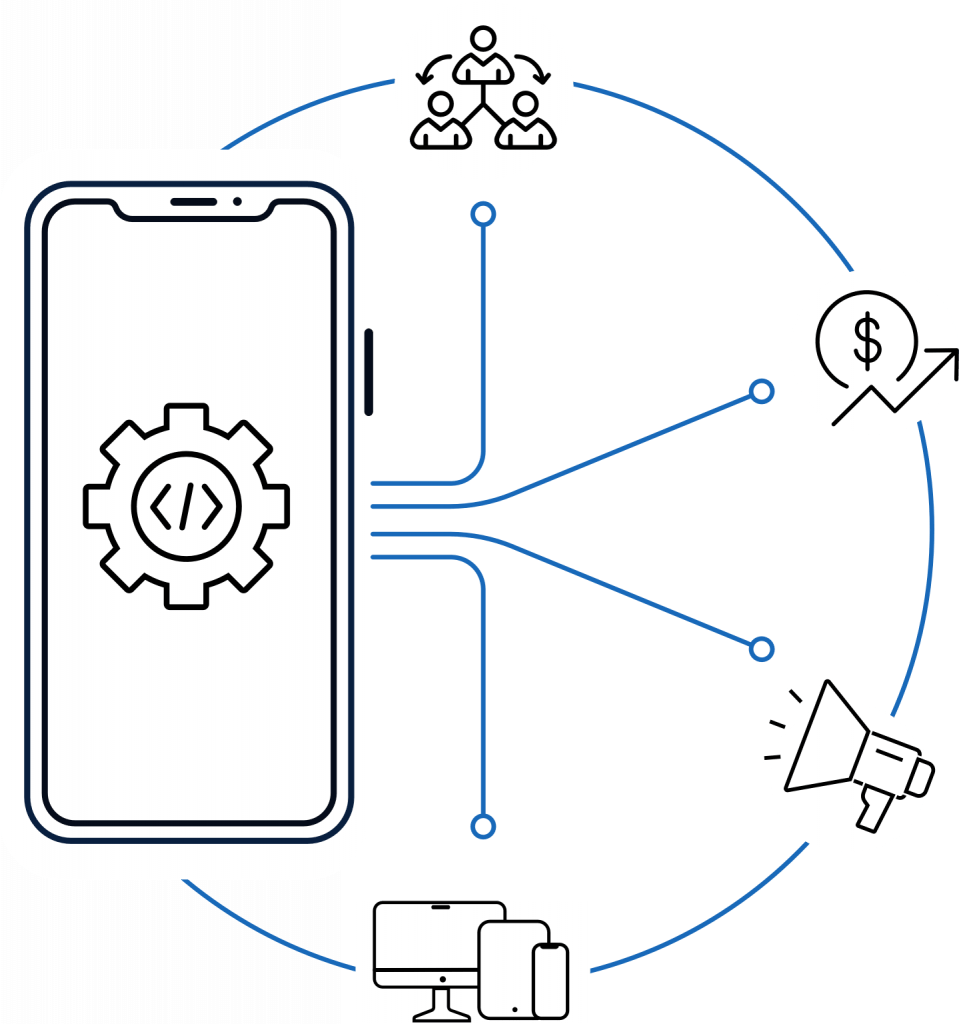 Mobilizing Your Business Ecosystem
The mobile applications developed by DBS drive growth, visibility, engagement, and revenue for organizations through comprehensive, integrated mobile strategies that harness the unique versatility and array of capabilities offered by mobile devices.
More Productive Internal Collaboration
Accelerate productivity and efficiency by connecting and integrating your internal systems and digital tools with a private and secure mobile app designed for your internal teams and partners.
Increased Revenue and Brand Awareness
Mobile apps strategically position your business in front of targeted audiences on their mobile devices to drive sales, increase brand awareness, and keep your company top-of-mind.
Unique Features and Captive Audiences
Mobile devices offer a wealth of features, capabilities, and real-time data—from geo-location to cameras, sensors, and beyond—that can strengthen your app and help keep users engaged.
Seamless Integration with Web-Based Solutions
For companies wanting the best of both mobile and web, we also build hybrid applications that combine the two technologies to create the perfect custom app solution you need.
How We Build Your Mobile App
Our mobile app development methodology is rooted in 20 years of experience developing and designing custom mobile solutions for enterprise-level businesses in multiple industries.
Phase 1
Strategy & Planning
---
We collaborate with your team to gain a deep understanding of your goals for the mobile app project, including analysis of your business, your user base, the competitive landscape, and potential opportunities.
Phase 2
UI & UX Design
---
Our designers begin forming concepts and visual styles for your app, then move to wireframing the interface and user experience that will keep your audience informed and engaged.
Phase 3
Development & QA
---
Our developers incorporate final designs to build and thoroughly test a secure, reliable, and high-performing mobile app that meets your requirements and exceeds your expectations. We develop applications for any mobile device running Apple, Android, Google, or Windows operating systems, including:
Mobile smartphones
Mobile tablets
Smartwatches
and more
Phase 4
Launch
---
We stay with you through the app store approval process, all the way to your successful release. Our marketing strategists can also create and launch PR and promotional campaigns that drive awareness and downloads, quickly growing your app's user base and engagement.
Mobile Apps Designed for Your Business Needs
Our team of design, development, and marketing experts can build the best mobile app for achieving your specific business goals, working collaboratively with your team from the initial concept to your launch in app stores. Connect with us and see how we can help.
Contact Us
Proudly Working With