Back to Portfolio
Case Study: Papa Johns
A Strong Foundation for Corporate Communications
The international pizza restaurant chain needed to unify a patchwork of communication resources serving nearly 17,000 employees and 5,000 franchise operators in 50 countries.
Results Snapshot
Increased adoption and engagement
Lightning fast page loading
Simplified content management interface
New insights from user behavior analytics
Planning for Phase 2 accelerated after the successful internal launch
The company's existing intranet was not easily accessible.
Email was no longer efficient nor effective, despite being the primary distribution channel.
The corporate communications team needed a modern portal for franchisees and employees, one that more efficiently distributed daily content and provided a resource library.
Focus On Content
Publish unique and overlapping content for different personas to create better usability, functionality, and adoption of the platform.
Cloud-Based Platform
Build a scalable solution on the Crafter CMS cloud-based platform that was familiar to the corporate IT team.
Design to Support the Brand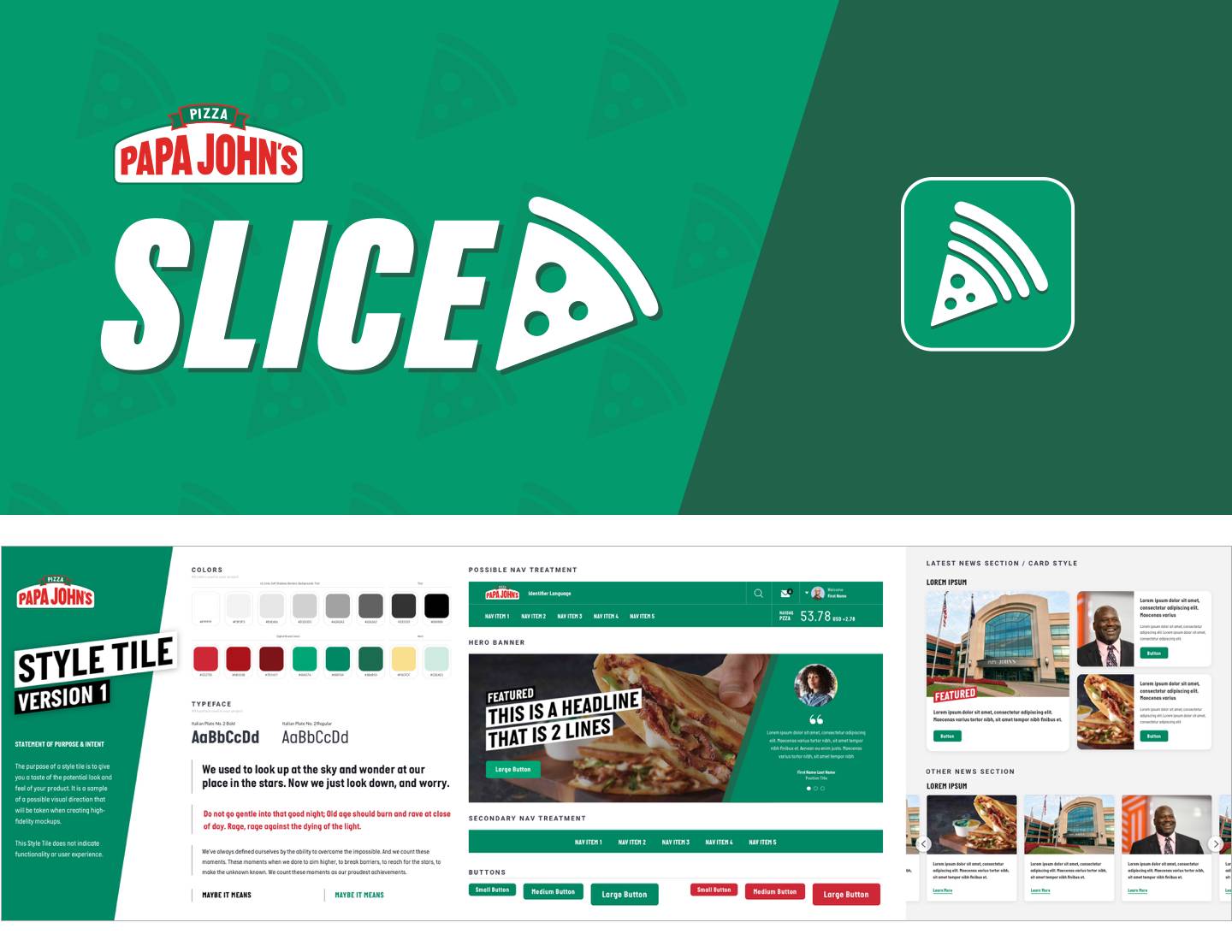 The franchisee and employee portal had to maintain and showcase the corporate identity—as essential for internal audiences as it is for customers.
Mobile-First Strategy
Content would need to be strategically organized and structured to build the brand's credibility and authority around industry topics.
Custom Goal Measurement
The planning focused on the goals of multiple stakeholders and incorporated analytics understanding site performance and user behavior.
Single Sign-On Security
Incorporate a single sign-on protocol that limits permissions and access for internal and external users.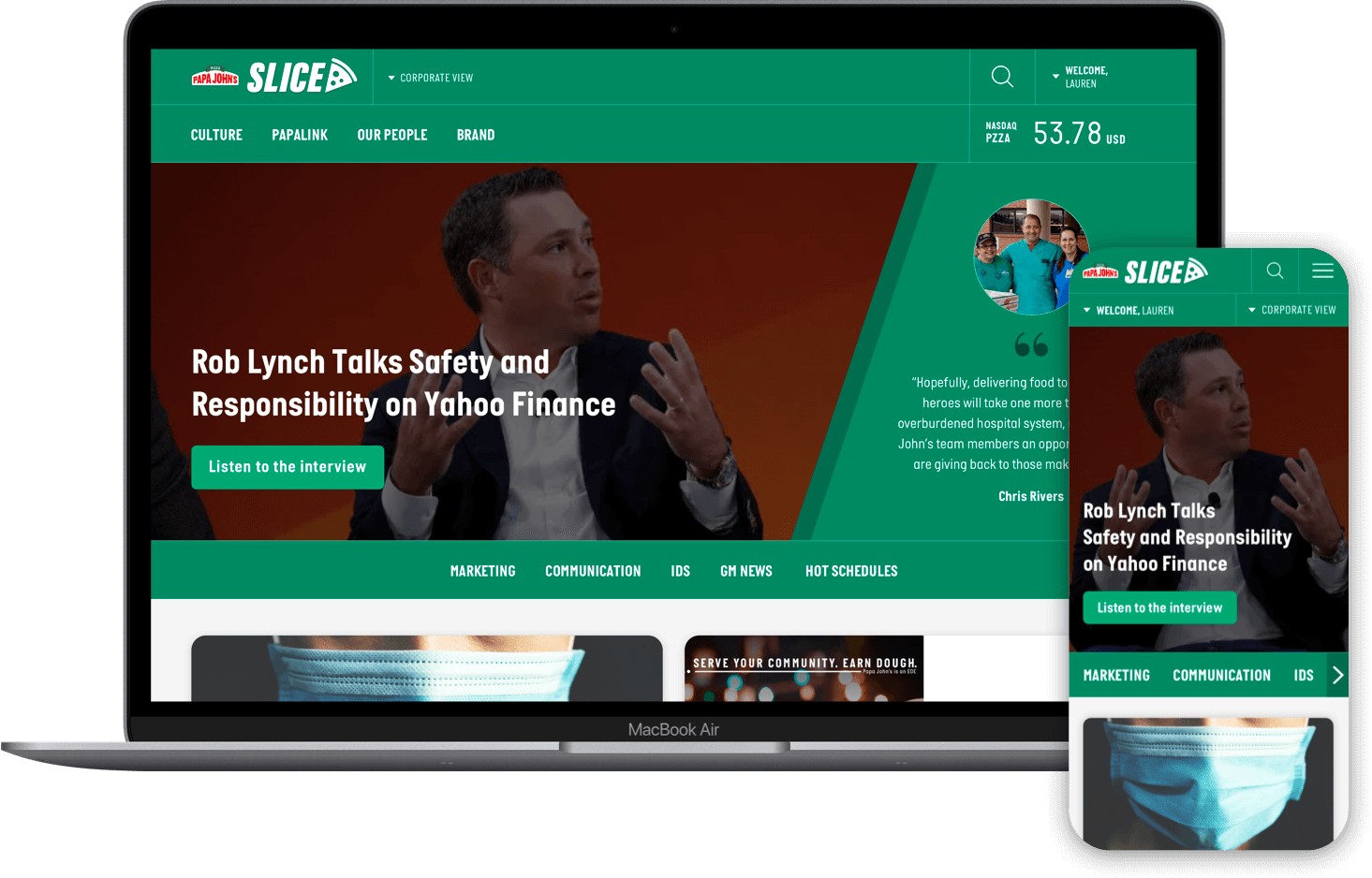 With experience working in multiple open-source content management systems, we applied our strategic development processes to build the company's new portal on their Crafter CMS cloud-based platform. The result was a scalable enterprise web portal that saves time for all users, including the corporate communications team and the corporate information technology team.
Unique User Experiences
The platform delivers customized experiences and information for two unique personas: Employees and Franchisees. The intranet behaves as two unique sites wrapped in a single platform with a cohesive design.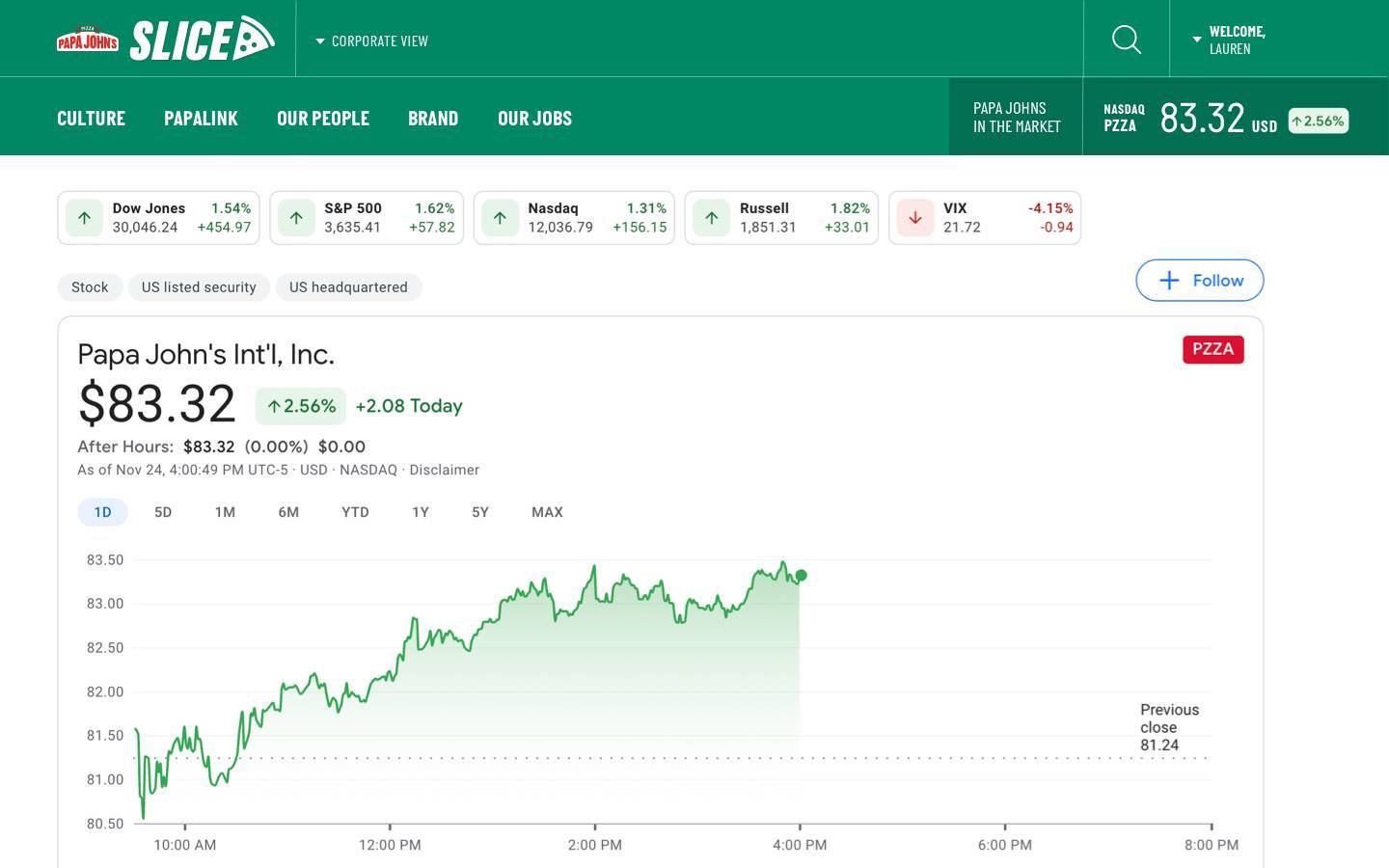 Custom Integrations
The site also integrated a stock exchange ticker and social media, in addition to the single sign-on. The platform integrates with a corporate communications system to update users when new content is released.
Fast Delivery
Less javascript coding was used, which delivers enhanced performance and user experience, especially for mobile devices and slower internet connections.
Need-to-Know Information
Pop-up alerts and an integrated email system notifies users about new content relevant only to them, which avoids overwhelming other users with unnecessary information.
Responsive Design
Designed with a mobile-first approach, the intranet offers a seamless user experience on smartphones, tablets, and desktops.
Metrics and KPIs
Custom analytics enable the corporate communications department to measure downloads and engagement with the intranet so they can compare one cohort to another.
Proudly Working With