Low-Performing Websites Keep Industrial Brands From Earning A Bigger Share of a Shrinking Market
DBS Interactive
DBS Interactive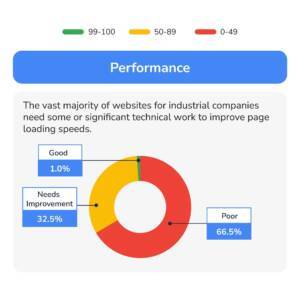 The vast majority of websites for B2B manufacturing companies don't meet the latest best practice criteria for technical performance and user experience, based on a DBS Interactive study that audited several hundred manufacturer websites using Google's Lighthouse tool.
Only 2 out of 200 websites included in our study scored between 90 and 100 on the Google Lighthouse test, which is the threshold for "Good" performance.
Why Does Website Performance Matter?
The results of our study indicate the vast majority of manufacturers will struggle to capture greater shares of increasingly shrinking industrial markets with their underperforming websites.
As the pool of new customers continues to shrink due to increased competition, an uncertain economic future, and market consolidation, industrial businesses can't afford to have their websites be a hurdle in the buyer journey.
Poor-performing websites negatively impact KPIs for marketing and sales, including:
Fewer sales leads and lower revenue due to fewer prospects coming to the website organically from search engines
Higher bounce rates when new visitors immediately leave the site due to a poor browsing experience
Falling search rankings as Google elevates your competitors and pushes you down the page below websites it believes are higher quality
Loss of traffic when fewer people see you in search as a result of falling rankings
Lost opportunities for international engagement and new business when your site runs slow on low-bandwidth networks
Poor user experience reflects poorly on your brand and the quality of your business offerings
About the Website Study
DBS Interactive, a full-service digital agency in Louisville, KY, reviewed 200-plus websites in February 2023. Revenues for companies included in the study ranged from $500k to just below $5 million. The industry segments sampled include chemical, printing, metal fabricating, packaging, and other enterprises.
Quick Facts
2 websites (1%) scored "Good" (above 90) for Performance
100 websites scored "Poor" (below 41) for Performance
50% of the websites scored above 90 for web development best practices
About 60% of the websites risk legal liability for not meeting web accessibility criteria
The majority of sites need improvement to meet SEO best practice criteria
Only one site meets Progressive Web App (PWA) requirements
About Scoring
The scores for various tests break down into three divisions. Websites with scores between 90-100 are considered "Good". The second category for scores 50-89 indicates Needs Improvement. "Poor" performing sites register scores below 50. DBS performed these tests  using Google's open-source Lighthouse tool.
Quick Takeaways
Underperformance is industry-wide – While some of the sites reviewed were visually appealing, the findings paint a larger picture of company websites across various manufacturing sectors all needing moderate or significant improvements in coding and architecture.
Accessibility compliance is nearly non-existent – The majority of websites do not meet basic accessibility standards established by WCAG and mandated by legislation in various countries throughout the world, including the ADA.
Progressive web apps (PWAs) are rare – Even as Google tests websites for PWA requirements and considers them a best practice for search performance, only one website in the study is built as a PWA.
Findings: Manufacturing Websites Struggle to Perform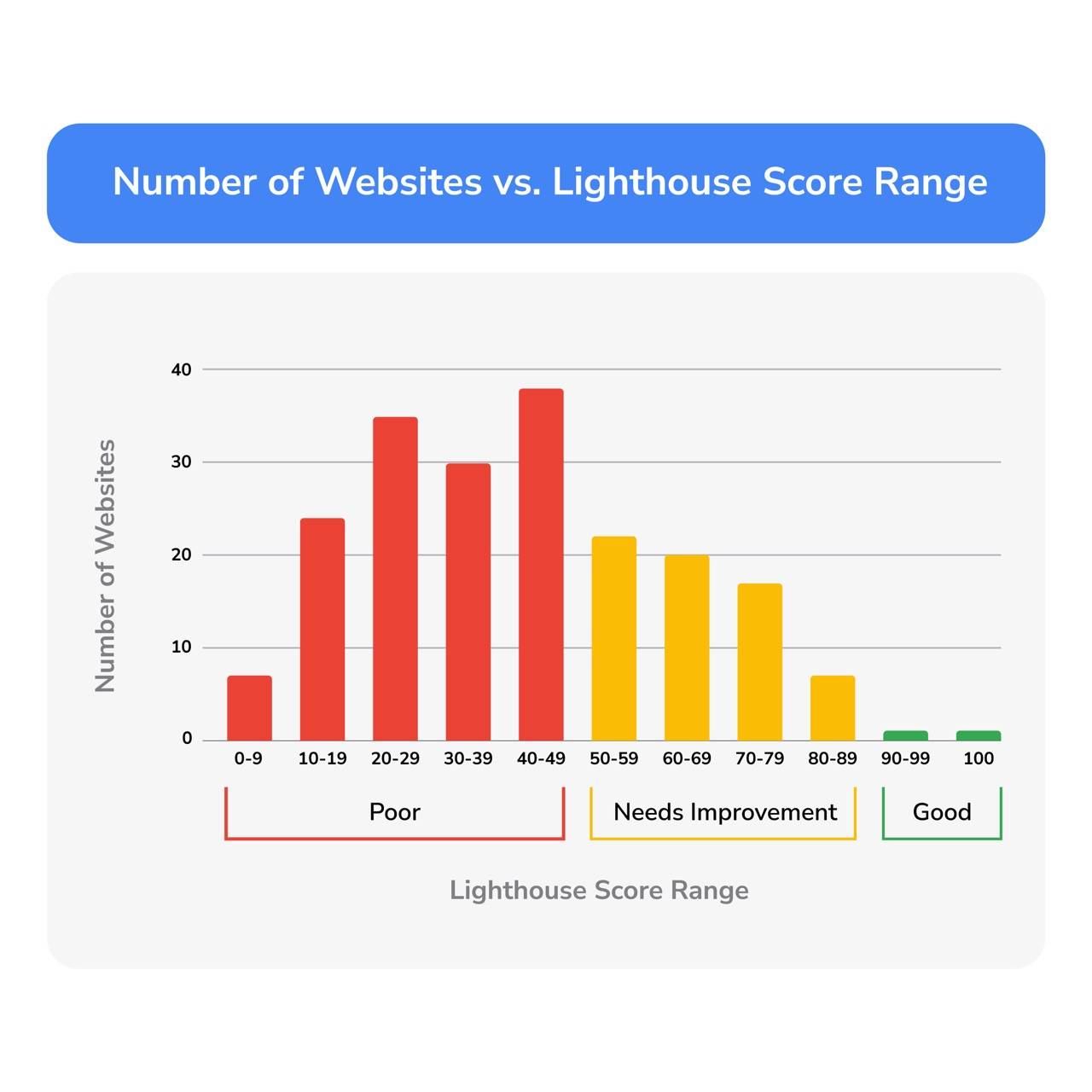 The most glaring discovery showed only 1% (or 2 of /200 websites) meet the threshold for high performance. Of the two websites, only one site scored a 100.
When websites for B2B companies underperform, they jeopardize business success beyond SEO, because maintaining the same share of a shrinking audience stunts business growth.
Every Marketing Effort Leads Back to Your Website
Almost every online and offline marketing tactic relies on a website. Users arriving at a website from social media, email, advertising, media mentions, or a link from a business cart leave quickly if they have to wait for more than one or two seconds.
The analysis showed that 33% of the companies fell into Google's mediocre orange category indicating the need for improvement. That number fails to tell the story that half of the websites scored below 41, putting them deep in the Poor category.
Sites in the lowest tier have serious shortcomings.
"It's unfortunate for these businesses because many of them invest considerable time and resources into creating content on their website with relevant keywords and expect that to deliver results," said Cyndi Masters, CEO of DBS Interactive.
"The reality is that successful websites require much, much more than keyword-optimized content. They must be developed holistically to integrate the latest best practices for user experience, accessibility, and technical SEO, Masters said"
More About Why Performance Matters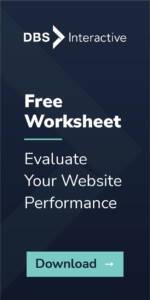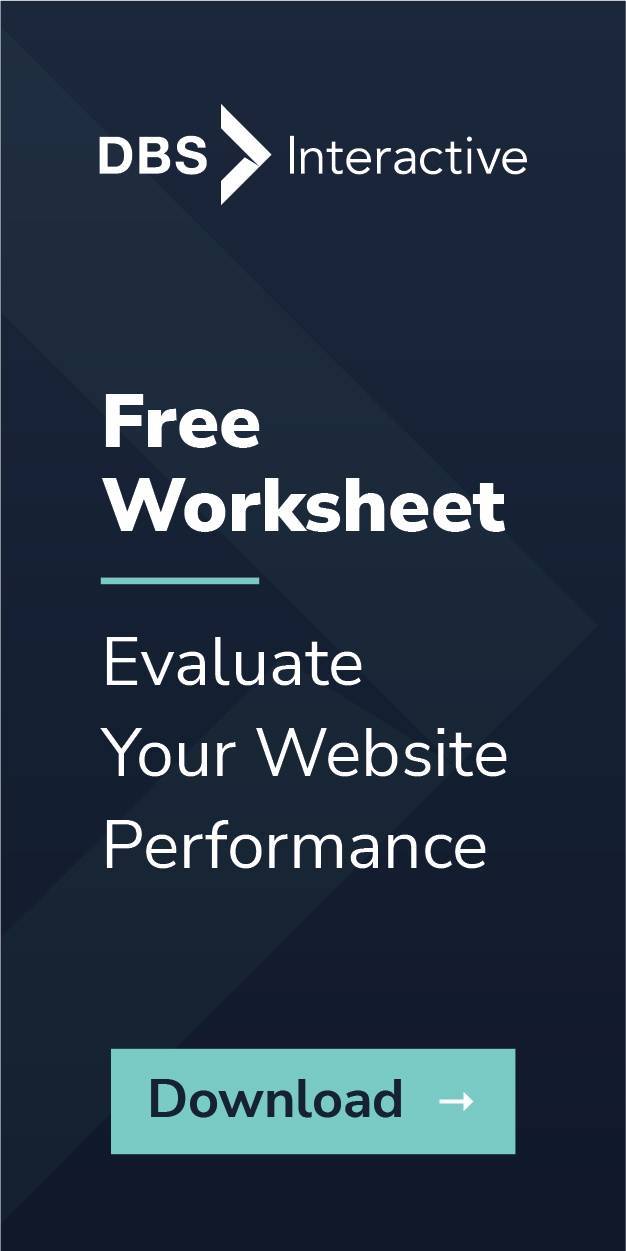 A high-performance website does more than simply improve search positioning:
It elevates the brand for all audiences, no matter where they originate or how they discover the website.
It differentiates your brand from competitors who will struggle to achieve and maintain best practices.
It provides valuable support and resources to both new and existing customers, all packaged in an engaging and high-quality user experience.
With a better user experience (UX), websites earn higher conversion rates to generate more leads from prospective customers.
For existing customers, the website elevates your brand and customer experiences by enhancing the quality of their service or support.
"Many people have a horror story to tell about the frustration of long hold times for an airline or cable company's customer service," Masters said. "Websites can leave visitors feeling the same frustration, tarnishing your brand reputation and removing incentives for them to come back."
Why Manufacturers Fail to Achieve High Performance
Industrial companies typically do not have the in-house expertise to design, develop and maintain a healthy website that performs up to the highest standards–or they may simply settle for "good enough" because they're unaware of the lost opportunity.
"We focus on maintaining our website's high performance because we know how essential it is to our growth. It represents our brand on the world stage, and ensures our potential customers have a positive impression of our company the first moment they visit kaocollins.com," said Kristin Adams, the company's Marketing Manager.
Optimizing the site's technical performance also supports the company's effort to attract and engage new audiences in locations worldwide where site visitors may have poor network connections.
Struggling with the Complete Picture
Other companies in the survey score high in certain categories, yet low in others.
In fact, 38 companies scored 100 for Best Practices yet returned Poor scores for other categories. Best Practices measured by the test include having a secure website with an HTTPS domain, ensuring links to external sites are safe, avoiding requests for the user's location on each webpage, and more.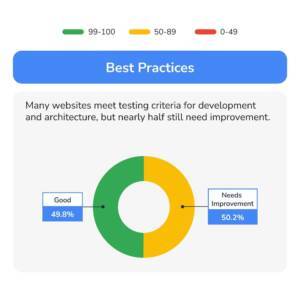 Understandably, most companies do not have the combination of digital marketing and IT capabilities to devote to a website and maintain it the way crews maintain production by servicing a company's business equipment.
The nature of Technical SEO requires skills for working at the code level of the website and knowing how to optimize keywords in URLs, metadata, and other code-based elements. It also involves staying current with the industry's ever-changing best practices.
"Google updates and changes things frequently, and sometimes it takes investigating to determine how we meet the latest requirements," said Hal Burgiss, Chief Technology Officer at DBS. "That's the one constant," he said.
Accessibility Isn't a Luxury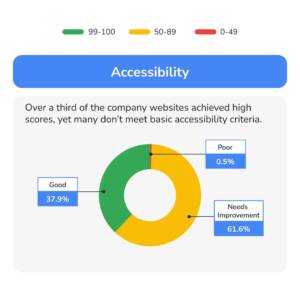 Despite notable lawsuits against companies like Domino's Pizza, Target, and Harvard University, companies have not gotten the memo about the need for building and maintaining a website that complies with the Americans with Disabilities Act (ADA). Today that generally means the WCAG 2.1 AA criteria.
Benefits of an Accessible Website
Improved search engine performance
Positive brand reputation
Faster user experience
Improved user pathways
Attracts and serves a wider audience
Reduced legal exposure
The analysis shows that over 60% of the websites tested don't meet Web Content Accessibility Guidelines administered by the World Wide Web Consortium (W3). One website ranks poor.
An accessible website offers a superior user experience for everyone, regardless of ability. An older business person may have vision difficulties, and another may have a temporary impairment that makes using a mouse difficult.
A website designed and developed to meet accessibility requirements typically achieves higher search rankings. Incorporating the nuances that make a website accessible pays dividends for SEO.
The Mobile Experience Matters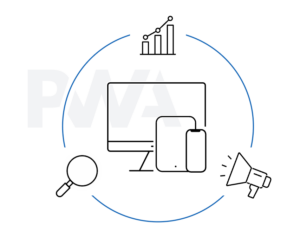 Another surprising study finding revealed only one website incorporated Progressive Web App (PWA) technology.
Simply put, PWAs are a way of building websites that are faster, more responsive, and capable of performing like an app, yet are still able to be indexed for search and usable as a traditional website. The architecture of a PWA supports a better user experience.
PWA Benefits
Speed – Fast loading time
Operates on poor networks
Small development footprint
Integrates app-like features
No app stores, no downloads
Instant updates
A company's lack of a PWA significantly affects the increasing number of smartphone users in their global audiences. Without a PWA, new and prospective customers can't reliably use a business site that struggles to load on low-performance networks.
"Companies expecting to attract new customers in multiple countries should support those goals by insisting on PWA development when planning a website," Masters said.
Manufacturers seeking to attract more international business should consider implementing PWA in their website plans.
Partnering to Help Your Website Stay Healthy
The poor scores highlighted in the survey represent a great opportunity for businesses to implement performance improvements to their websites. Companies can document the results of the effort with improved search rankings and higher click-through rates.
However, industrial companies are already stretched thin as they face challenges with the supply chain, employee hiring and retention, and inflationary impact on goods and services. Maintaining a focus on those priorities can justify hiring a multi-disciplined team with the expertise to maintain a high-performance website.
While a company often tracks website performance with Google Lighthouse, Page Speed Insights, Google Trends, etc., most B2Bs need vendors with expertise in the latest SEO trends and all of Google's tools to improve search rankings, visibility, and user experiences.
"The website is the hardest working employee in a manufacturer's Marketing department" Masters said. "It never sleeps, it answers every question, it connects employees and customers to important resources, and it's the face of your brand around the world. That's why you have to keep it healthy."
Stay Updated
Keep track of the best design, marketing & tech resources delivered straight to your inbox.