The 5 Best CNC Machine Website Examples
DBS Interactive
DBS Interactive
Wow! Great website!" When you think of compelling, functional, accessible websites, a  manufacturing website is probably not the first thing that comes to mind.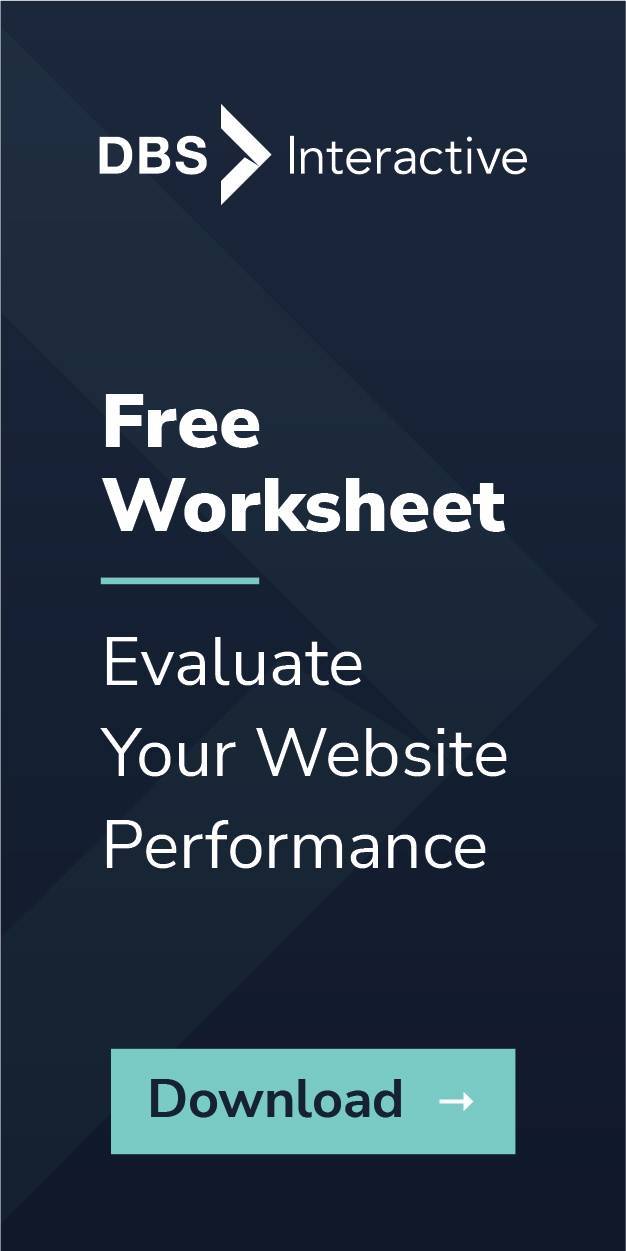 Until recently, most manufacturing brands have looked at websites as "nice-to-have" at best- and a waste of time at worst.
"Good enough" has been good enough.
Most CNC machine companies focus on outbound marketing strategies and industry trade shows for customer prospecting.
Shrewd manufacturing executives and marketers understand the benefits of a well-designed, high-performance industrial website.
Let's look at several websites for brands offering equipment and services related to metal. They expect their website to support their strategic plans for sales growth and brand awareness.
For CNC machining brands, having a website is vital to attaining quality leads and putting their best foot forward. And it is integral to keeping them one step ahead of the competition.
The Best CNC Machining Websites
Websites showcase modern manufacturing brands like no other online or offline marketing platform.
Like trade shows, websites for CNC machining companies must include strong imagery and messaging that increase traffic and convince the target audience to spend time on their site instead of moving on to a competitor's website.
Unlike a tradeshow, the website attracts visitors 24 hours a day, all year long. That's why the investment in website performance matters.
We selected some of the best websites related to CNC machining based on their ability to engage industrial audiences, offer useful information and intuitive features, and convert visitors into sales prospects.
Criteria for Determining the Best Websites
Clear, Targeted Positioning – We chose CNC machining and related websites with homepages clearly stating who they are, the types of products or services they offer, and the customers they target. We avoided CNC websites that are too general or try to be "all things to all people."
Intuitive Navigation – A good website must have a clear navigational structure that satisfies web visitors with the guidance they need to find the right information and content.
Landing Pages With Calls-to-Action and Conversion Forms – Marketing efforts such as banners, social media posts, newsletter ads, and search engine results inevitably lead users to your landing pages. We selected CNC and metal-finishing websites with landing pages that reinforce and match their marketing messaging.
Compelling Website Content – We narrowed the websites to only those with current, high-quality content. Equally, the content must address visitors in various stages of their buying journey.
Mobile Responsive Website Design – We further limited our inclusion criteria to websites that provide a mobile friendly experience across various screen sizes and devices, such as tablets and smartphones.
Detailed Product Specifications – An excellent industrial website should provide the correct information about CNC machines. They should be written accurately and provide information such as exact compositions, appearance, usage, safety standards, and equipment specifications.
All the websites we selected to meet these stringent requirements. We call attention to specific features that stand out.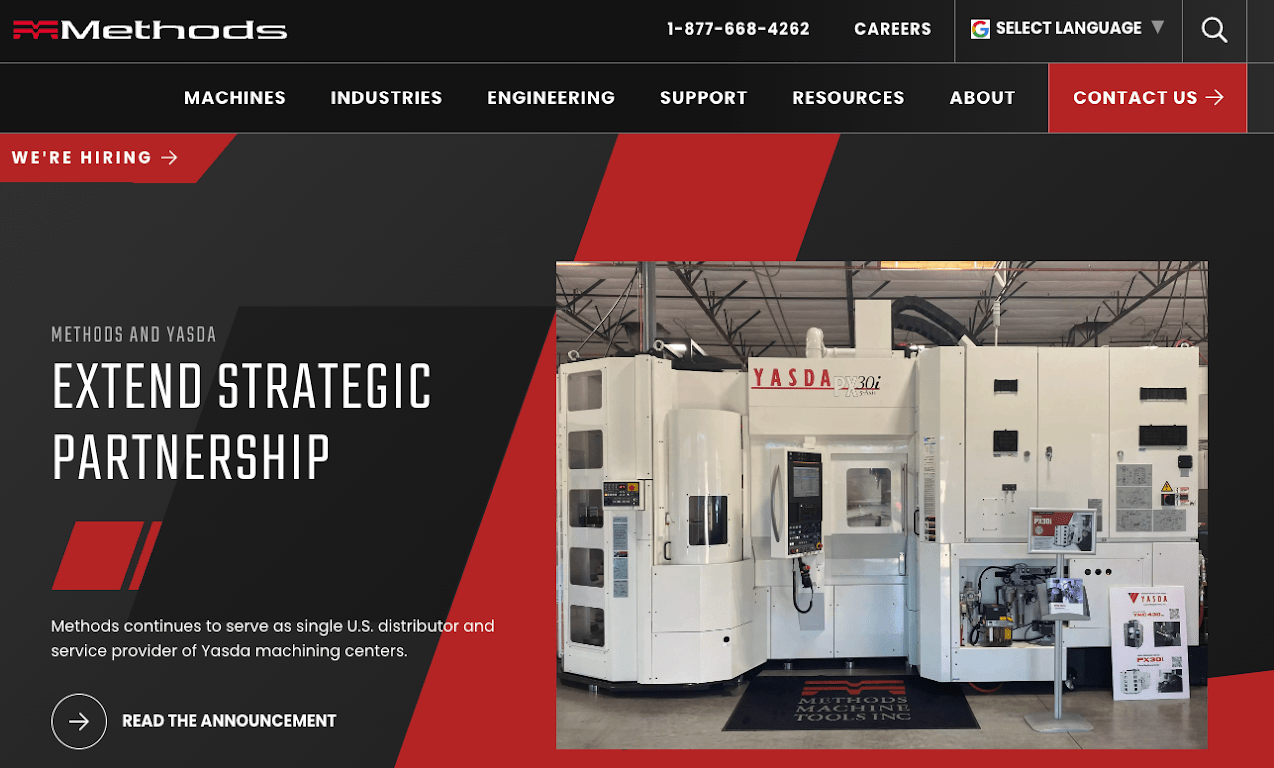 Methods imports best-in-class CNC equipment complimented with innovative engineering services. They provide custom process design, CNC machine selection, turnkey integration, and CNC automation services that keep businesses on the leading edge of precision manufacturing.
Methods Machines' website incorporates a clean layout, compelling imagery, and concise messaging that immediately positions the company as an industry leader in CNC machine solutions.
The "Machines" menu item features callouts to the machine types and brands. Also, the menu highlights the availability of ready-to-ship machines.
The navigation menu avoids endless flyouts and sub-menus that would make it harder for visitors to know the right page to visit. Each navigation item features understandable subpages. On-page callouts and navigation options support intuitive user pathways that are well-designed and positioned.
Their site loads quickly for desktop and mobile devices. Site-wide search makes it easy for users to access product information.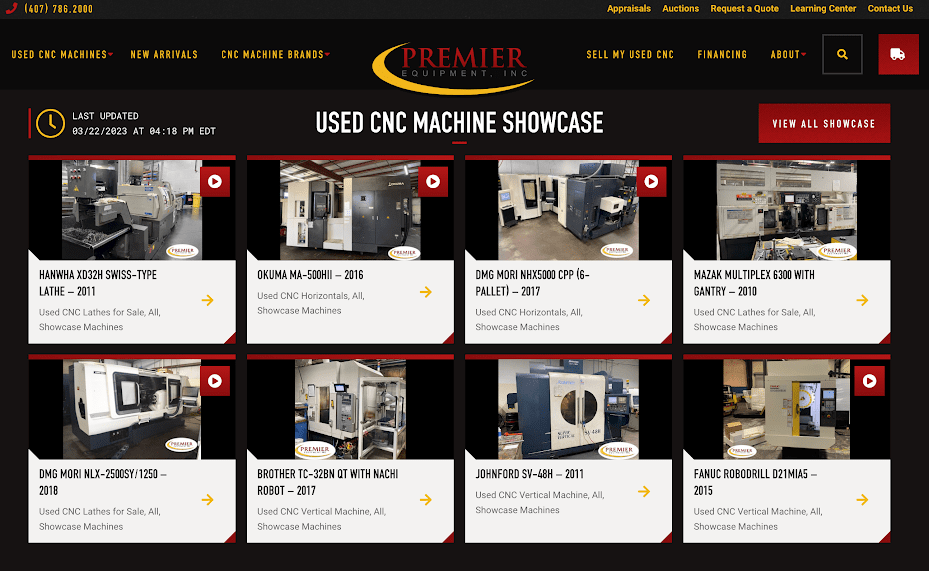 Premier Equipment carries premium used CNC machines using a  homepage with quick navigation to quality videos showcasing their available machine inventory. The videos display the company's unique selling propositions, differentiating itself from competitors.
These videos feature Premier Equipment machinists and engineers demonstrating equipment and showcasing the company's expertise and experience.
3. Koma – Homepage design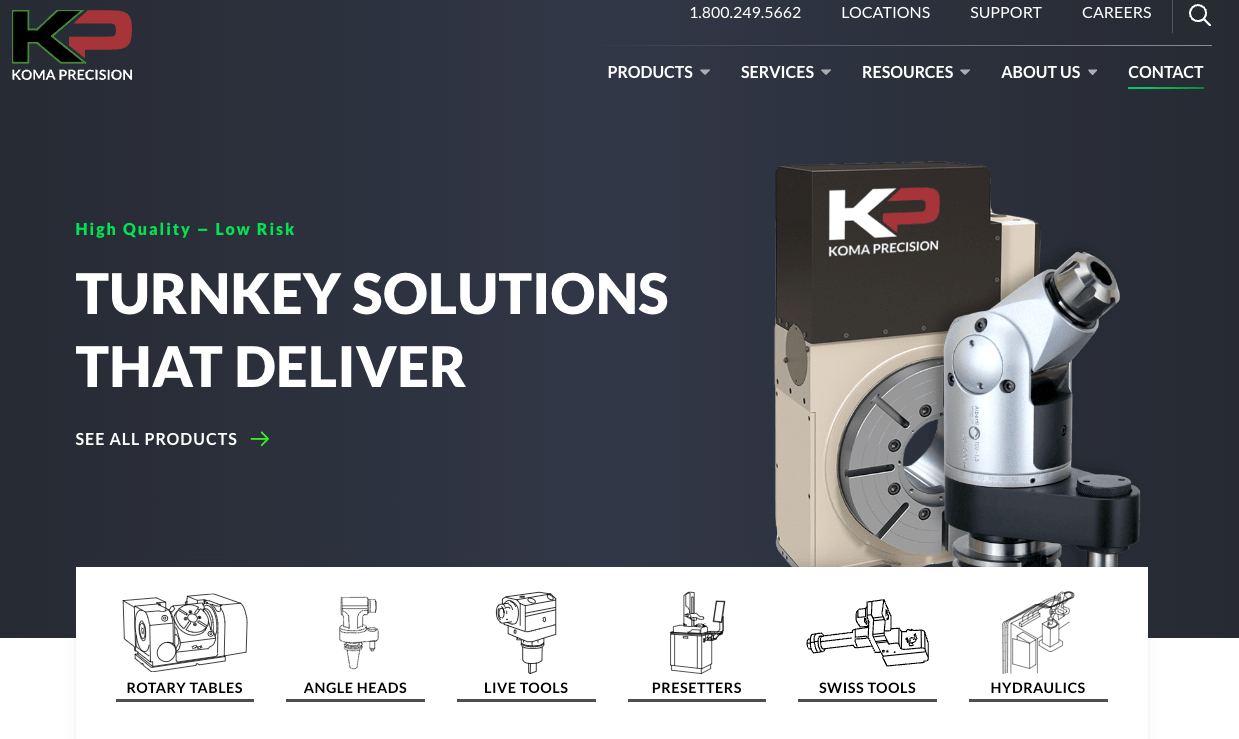 Koma builds and engineers rotary tables and other components used in CNC machining equipment. The top of the homepage features simple messaging and prominent callout links to Koma's main product offerings—these guide users on intuitive pathways to information.
Koma's serves its customer base with the solution they need based on the brand promise "TURNKEY SOLUTIONS THAT DELIVER." The company sets a clear example with the message that they are providing visitors with a solution that will get results.
4. Arrow – Animation and visual storytelling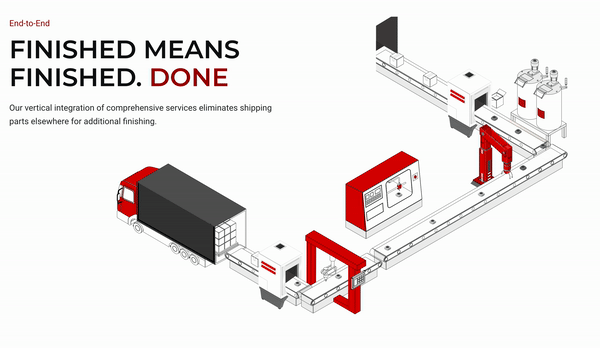 Arrow offers various metal finishing services, often needed for machined parts or components requiring protection or treatments to protect or enhance performance.
Arrow's homepage features a high-quality animation that supports the messaging that conveys its value proposition as an end-to-end provider of comprehensive finishing services.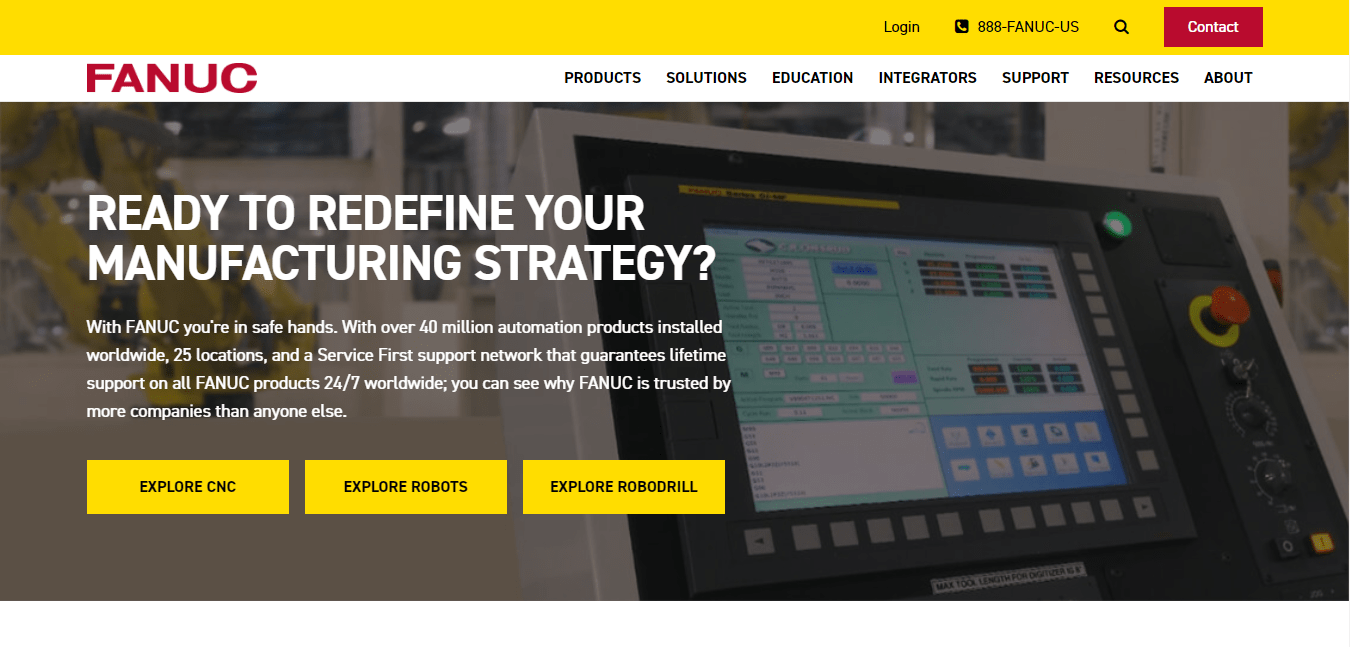 Fanuc produces and engineers CNC equipment and automation systems. Their site features many well-placed call-to-actions. They are helpful without being aggressive or intrusive. Their high-tech products require users to unleash their curiosity using language that urges visitors to "Explore."
The homepage offers unambiguous language to convey the next step of the buying journey.
CNC Websites Breaking the Mold
These websites for CNC-machining and related companies should put to rest the notion that B2B websites, especially in industrial sectors, can't offer compelling design, messaging, and functions. For these companies, the website conveys the essence of their brands – premium, high-tech products and services.
Contact DBS Interactive | Explore Our Portfolio
Stay Updated
Keep track of the best design, marketing & tech resources delivered straight to your inbox.