Progressive
Web Apps
---
Progressive Web Apps (PWAs) for businesses elevate search performance and UX for websites across all devices and internet speeds by prioritizing mobile experience and responsive design.
What is a PWA?

PWAs are web-based applications that take "mobile-first" to a higher level, combining the web design and development process with app development methodology to create the look and feel of a mobile app, offering a browsing experience across all devices that is higher-quality than what is possible with traditional mobile websites or native apps.
DBS and Progressive Web Apps
Since our goal at DBS is to develop websites for clients that capitalize on their greatest opportunities for success, we always recommend building web projects as PWAs. Here are some of the reasons why:
Business Benefits of PWAs
PWAs provide unique value to organizations because they offer digital capabilities to both businesses and users that are beyond what is possible with native apps or mobile websites alone.
Benefit
1
Reliability, Speed, and Engagement
Progressive web applications perform on any browser, load instantly when opened, and provide features and functions that make websites "feel" more like native apps, such as push notifications.
Benefit
2
Secure, Descriptive, Accessible
PWAs must be hosted on a secure server, must include descriptive metadata for images, links, and navigation, and must include code that makes it usable without an internet connection.
Benefit
3
Improved Search Performance
Progressive Web Apps are also indexable websites for Google, Bing and other search engines. The exceptional user experience of a PWA, combined with robust keyword optimization, keeps users on your site longer and converts them more often, which improves your search rankings because longer sessions and lower bounce rates are key search ranking signals.
Benefit
4
Elevated User Experience
PWAs provide a smooth, responsive user experience that never lags, and animations that are never abrupt or choppy. This is consistent across all devices, which is important since anyone can use their browser to access and enjoy your site. Additional PWA features, such as push notifications, keep users engaged and coming back to your site.
Benefit
5
Platform & Device Agnostic
Your PWA will be instantly compatible with the vast majority of both mobile and desktop devices because it will function on any device with a browser. This also saves you money by eliminating the need to develop separate mobile apps for Apple, Android, or other operating systems.
Benefit
6
Instant Updates and No App Stores
You don't have to worry about submitting a PWA to app stores and enduring any delays in the approval process. Progressive web apps can be browsed like traditional websites, or you can download them straight onto your mobile device from the web browser and use it like a native app. All updates to your PWA are pushed to all devices instantly.
Benefit
7
Bandwidth Isn't an Issue
While most of the world is optimizing websites for the newest 5G bandwidth speeds, PWAs perform just as well on new networks as they do on aging 3G or 4G networks, meaning your PWA will perform in any international market with internet connectivity.
Our PWA Capabilities
DBS has been building high-performing Progressive Web Apps since Google introduced and prioritized the development methodology in 2017. We adopt new best practices for PWAs quickly to produce optimal results for our clients.
Combining Web, App, and SEO Expertise
At DBS, we have a unique mix of web development, app development, and search engine optimization experts who ensure each PWA we build positions your business to achieve its goals for search performance, brand awareness, and lead generation.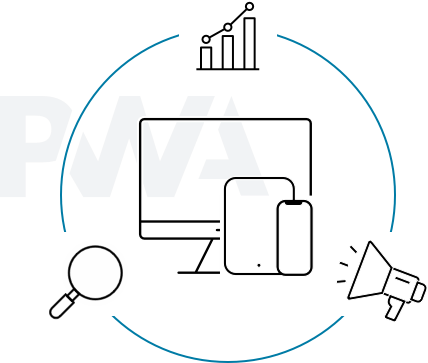 Some of Our PWAs
We've developed Progressive Web Apps for many different businesses, including our own: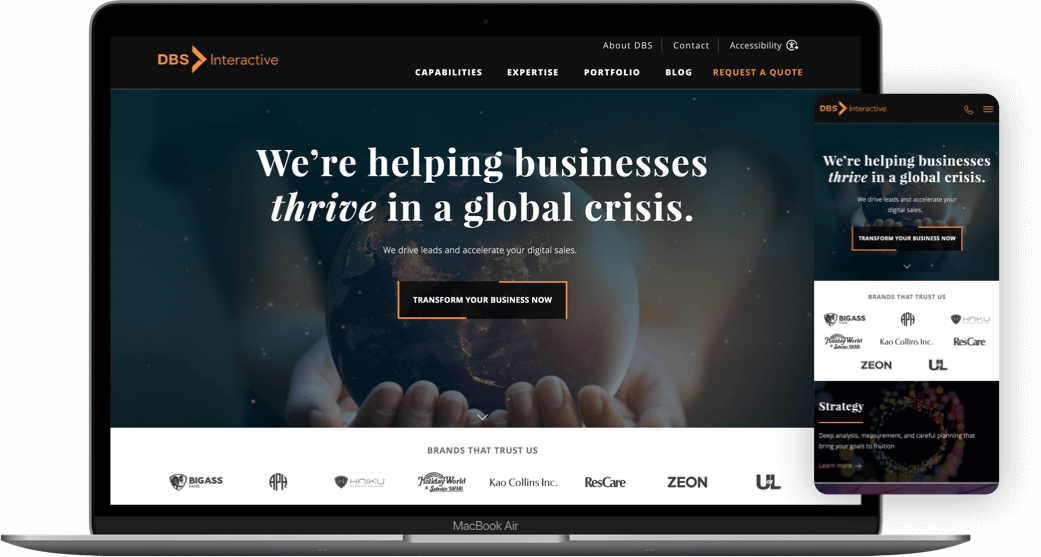 Project
DBS Interactive
That's right—you're using a Progressive Web App at this very moment. Our PWA is a big reason our website performs well in search results and loads quickly on devices.
Project
Kao Collins
A scalable, high-performance website, brand elevation, and multinational integrated marketing takes an industrial inkjet ink manufacturer from invisible to irresistible.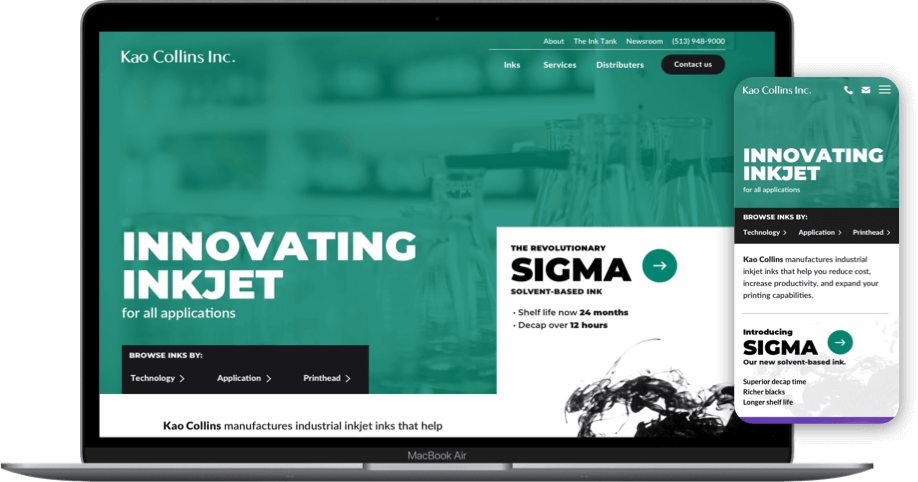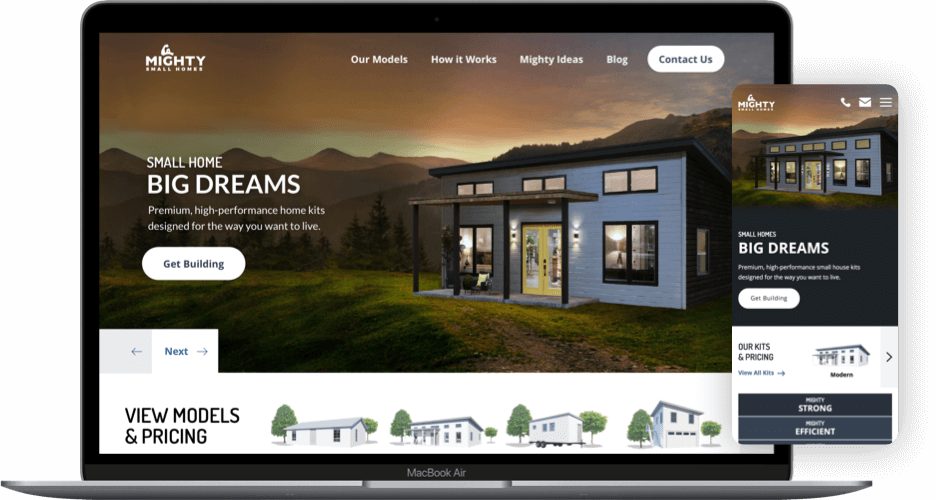 Project
Mighty Small Homes
For a pioneer of the small and tiny home industry, we capitalized on the opportunity to take the newly formed Mighty Small Homes business from concept to dominating the space.
Let's Develop Your PWA
Your website should work harder for your business. Connect with us to find out how a PWA positions your site for success by offering your audience the best digital experience.