Back to B2B Portfolio
Case Study: Schneider Electric
Driving Corporate Partnerships Through Interactive Marketing
Schneider Electric needed a unique digital experience that engaged enterprises and made a convincing business case for partnering with them to achieve corporate sustainability goals.
Results Snapshot
Increased lead generation for corporate sustainability partnerships
Improved stakeholder engagement and brand awareness
Elevated Schneider's commitment to global sustainability
Use digital storytelling to emphasize the ROI of working with Schneider Electric as a corporate sustainability partner. Make the experience easily shareable so that Schneider's corporate audience could bring this content to their C-suites and use it to support the business case for sustainability.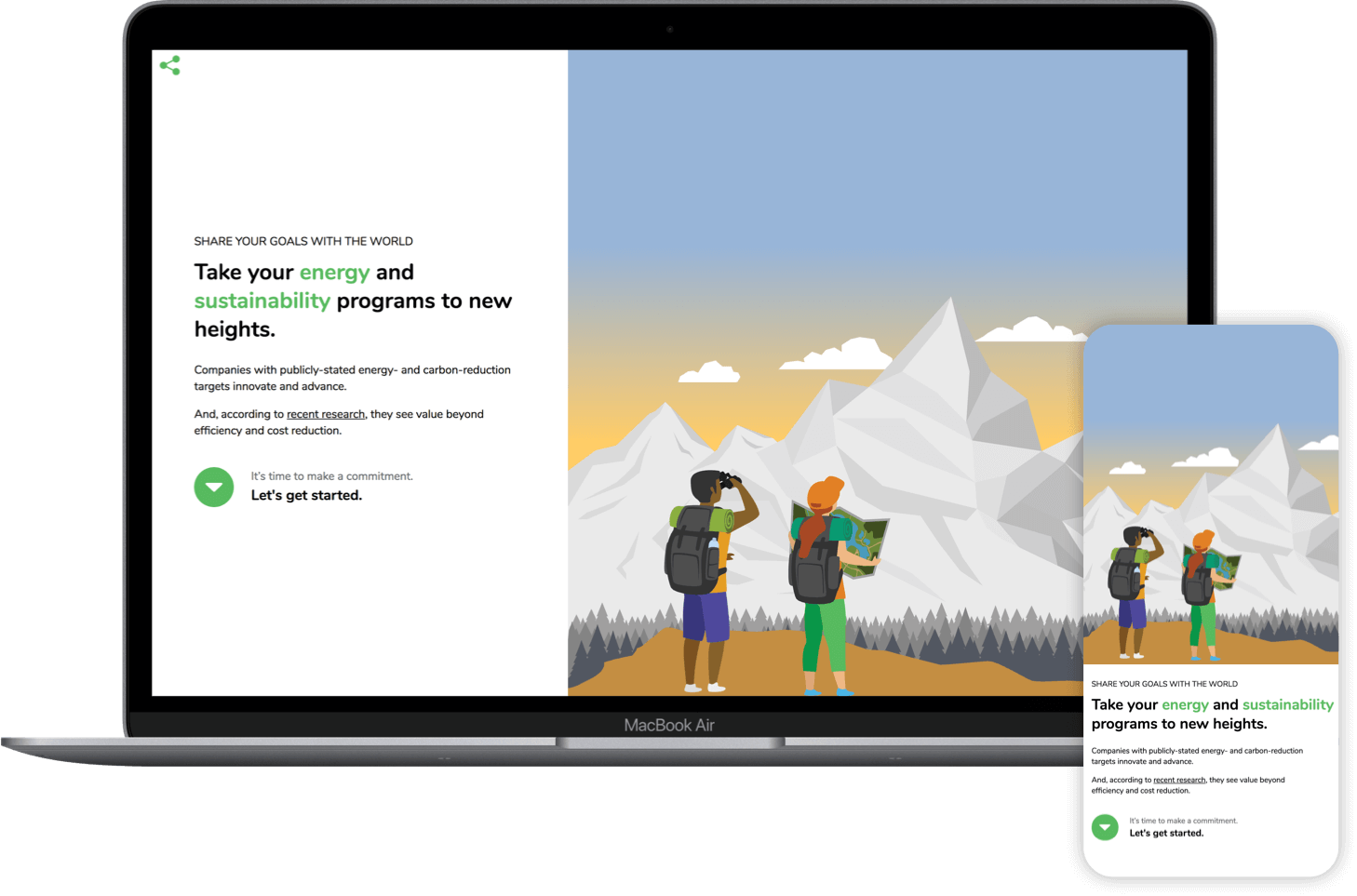 Dynamic Storytelling
Create a digital experience that leads visitors through a compelling story about the business value of pursuing corporate sustainability goals.
Non-Linear Journeys
Offer unique pathways in our interactive content to create more personalized and relevant content experiences.
Include Insights & Data
Place snippets of data from Schneider's Annual Report throughout the interactive experience to support messaging with verifiable information.
An Interactive Guide to Corporate Sustainability
We designed, animated, and developed a digital experience that mixed "choose-your-own-adventure" storytelling with industry data on sustainability and energy. Users' non-linear paths all concluded in a call-to-action that generated leads by positioning the brand as helpful enterprise experts ready to work towards sustainability goals with environmentally-conscious corporate partners.
Responsive Animation
We made Scheider's storytelling experience more engaging than a static slideshow by programming animated graphical elements, which respond as users click and navigate through their journey.
Engaging Infographics
Complex data on sustainability was distilled into easily digestible and visually appealing charts and graphs, which were animated to draw the user's attention to the most valuable and important information.
Lead Generation
No matter which path users took through the adventure, the final call to action compelled them to submit contact information to Schneider in order to begin exploring a corporate sustainability partnership.
A Few Other Companies We Work With

Want to Join These Great Clients?