Case Study: Methods Machine Tools, Inc
Engineering Superior Web Performance for an International Manufacturing Industry Leader
As world-renowned experts in advanced precision manufacturing, engineering, and automation, Methods Machine Tools needed a redesigned website that elevated their brand and outperformed the competition.
Results Snapshot
91% improvement in Pagespeed performance audit scores across all pages
New menu structure improved navigation for better user pathways, lowering the site's bounce rate and improving conversion rates
Significant increase in website lead generation
Redesign and redevelop the website to convey the brand's sophistication, expertise, focus on customer service, scale of operations, and complexity of service offerings, all wrapped in an approachable, intuitive, and modernized user experience.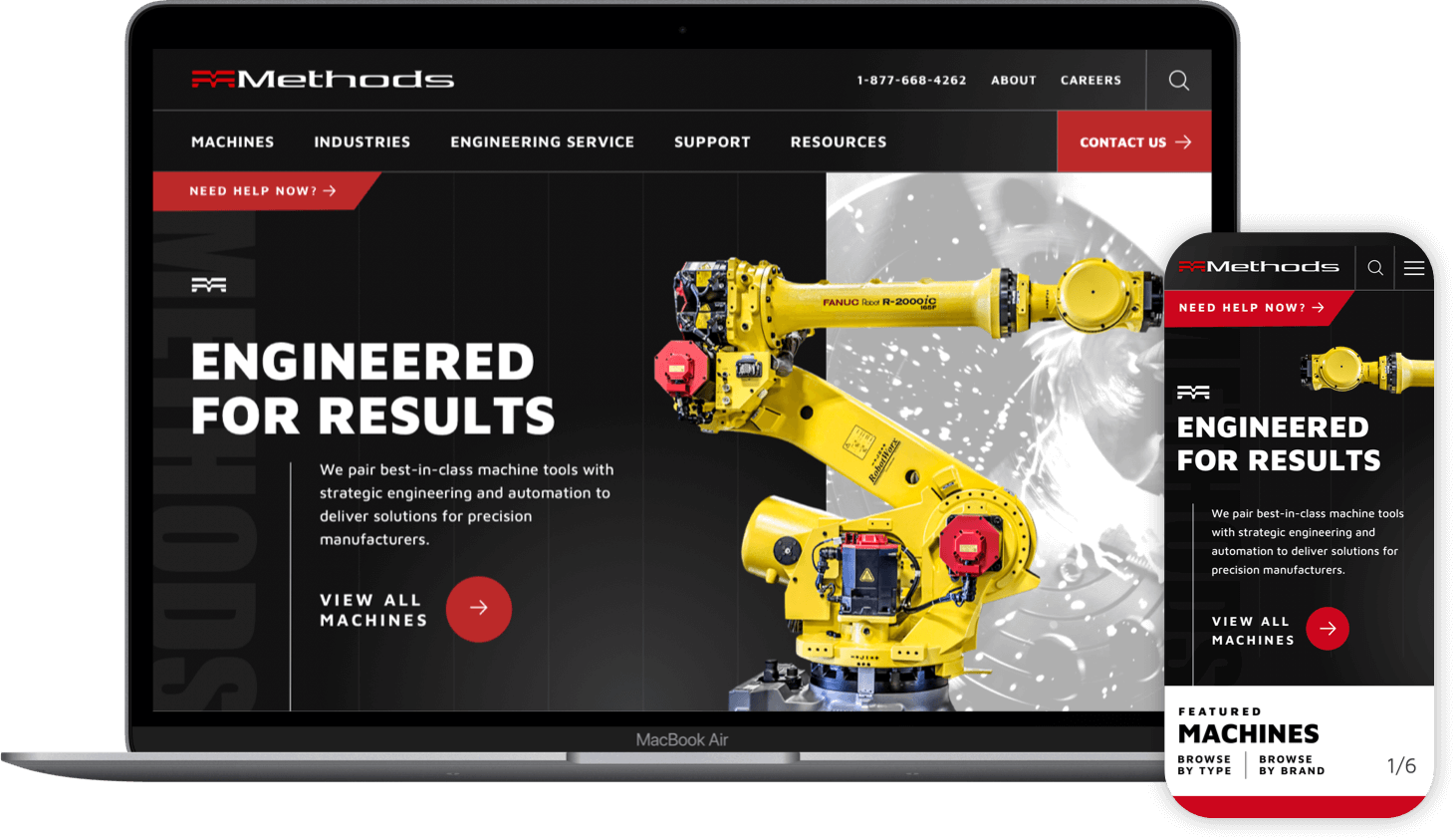 Information Architecture
The site needed to be reorganized and restructured to provide intuitive user pathways and straightforward navigation for visitors while also improving SEO.
Appealing to Personas
The variety of manufacturers served by our client meant the site had to demonstrate their versatility and experience working with multiple machine types in diverse industries.
Deeper Keyword Strategy
To improve search performance, we needed to go beyond traditional on-page keywords and rethink keyword usage within the code, such as Page Titles and Heading tags.
Pagespeed Optimization
Every page of the site needed to load super fast on any device to ensure and preserve an ideal user experience even when page content included large media files.
Rethink Content Strategy
We needed to evaluate existing content on the site to identify opportunities to develop new pages, blogs, and other content for building topical authority and SEO.
The High-Performance Methods Machine Tools Website
Technical SEO & Schema
We optimized every page to load quickly, and implemented schema markup throughout the site to elevate pages in targeted organic search rankings.
Optimized URL Structure
Where needed, URLs were revised and reorganized to convey site hierarchy and improve user navigation, making it easier for search engines to crawl and index the site higher in search results.
Modernized Web Designs
The site's timeless redesign incorporated clean lines, intuitive spaces, and visually pleasing imagery without compromising page speed and performance. We created a new brand & messaging guide with assets for the client to use moving forward.