In last week's blog post, we discussed the appropriate procedure and relevant considerations when choosing an email marketing provider. Many of these considerations dealt with the breadth of the features list and the sophistication of the user interface.
That being said, a gorgeous user interface and expansive feature list means little, if you don't possess the necessary skills to use them. As the Internet evolves, so too has the sophistication of email marketing platforms. Below, we've included a list of what we consider to be the 5 most important practices for implementing an effective email marketing campaign.
Experiment with A/B Split Testing
Bottom Line: Marketers who take the time to test their email campaigns, get better results than those who don't.
An A/B Split Test helps marketers improve their campaign by offering them the ability to test the various components of an email such as the day of week, time of day, 'From" field, subject line and content of the email. By varying these components slightly, and sending them out to small samples, marketers can then observe their effect on metrics such as open rate and click rate. With knowledge gained from the small sample test, marketers can then use this information to send out the version of the email that has proven to be most successful in their tests.
If your email marketing provider does not offer the ability to do small sample tests, consider dividing your database manually and creating two different campaigns. You can then use the results of the two campaigns to inform the creation of your next two campaigns.
The major takeaway from A/B split testing is that there is no such thing as the perfect email. But by continually improving and refining your email strategy, you can come ever closer to achieving perfection.
Don't Forget About Mobile
Studies have shown that more than one third of mobile internet usage is spent using email.
Mobile templates make emails more user-friendly for smartphone owners by adapting the design to mobile screen resolutions. In order for your emails to render on both mobile screens and desktops properly, your design must be responsive.
If you have the capability to create a responsive design yourself, more power to you. As a rule of thumb, it is a good idea to keep the design of mobile templates to one column with a font size that is easy to read on both mobile devices and large computer screens.
If not, many of the email marketing providers offer easy-to-adapt mobile templates.
Regardless of which route you go, when millions of people check email on their mobile devices, your mobile campaign must be a priority.
Automatically be Awesome with Auto Responders
Auto responders can be used to send automated emails based on a specific trigger or event. Some examples of where auto responders may be appropriate are:
Welcome new subscribers for joining the mailing list
Send happy birthday emails with promotions
Thank customers for purchasing a particular item
Auto responders can also be very useful when you are away from your computer and do not have the time to respond to emails. Through automated emails, your company will appear to be working around the clock, providing great service to clients and customers.
Multilingual Messaging for a Multilingual Audience
International businesses have customers with international needs. This includes reading emails in languages other than English.
If multilingual communication is an important feature, than you should consider an email marketing provider that offers translators. The option auto-translate, as seen on providers such as Mail Chimp, translates the default language to the subscriber's specific language.
Without such an option, then you would need to have your message translated by a specialist. Specialists are also a good resource for determining which language to send to a country where multiple languages are spoken.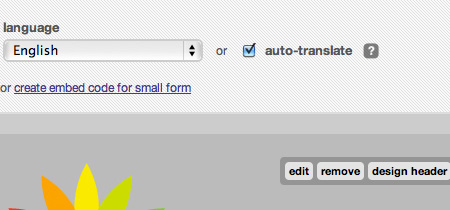 Make Subscribing & Unsubscribing Simple
New subscribers are a valuable commodity to any business. Every new subscriber you add presents an additional opportunity for your business to market your product or services.
In order to maximize the possibility of you gaining new subscribers, you need to make the subscription process as simple as possible. If this step is too complicated or requires a user to input too much personal information, users may not complete the form.
It doesn't matter how simple the subscription form is if users can't find it. To ensure a healthy inflow of new subscribers, make sure that the subscribe form has prominent real estate on your website and blog.
Last but not least, be sure to let users know about the frequency that they can expect to receive emails from you.  Send too many, and there is a chance people will unsubscribe from the list.
Although we would prefer this to never happen, even the unsubscribe process needs to be simple and prominent. CAN SPAM regulations require that unsubscribe information must be present on promotional emails.