The Basics – What Is a Hashtag?
A hashtag is a symbol (#) developed by Twitter that allows individuals to categorize or follow a topic used in tweets. There are only a few guidelines to using hashtags – they must begin with the # symbol (#example) and they cannot contain any spaces. You can select from existing hashtags (Hashtags.org offers an overview of popular hashtags used on Twitter), or you can choose to create your own, such as Stephen Colbert's recent creation, #ArtificialSwedener.

Hashtags that become very popular become Trending Topics, and get pushed to the homepage of Twitter. Up until recently, this was the extent of a hashtag's usefulness, but that all changed with Twitter's recent announcement of Hashtag Pages.
What is a Hashtag Page?
Hashtag pages extend the functionality of hashtags by offering a more complete user-experience for events and brands. Stepping a bit out of their comfort zone, Twitter made this announcement public by airing the news during their first ever TV commercial, which ran during NASCAR's Pocono 400 race.
The commercial, which promoted NASCAR's hashtag page, invited viewers to stay up-to-date with the latest, breaking news relating to the race by following #NASCAR. Once on the hashtag page, viewers saw a custom branded NASCAR page, which compiled and featured popular tweets and people using the #NASCAR hashtag.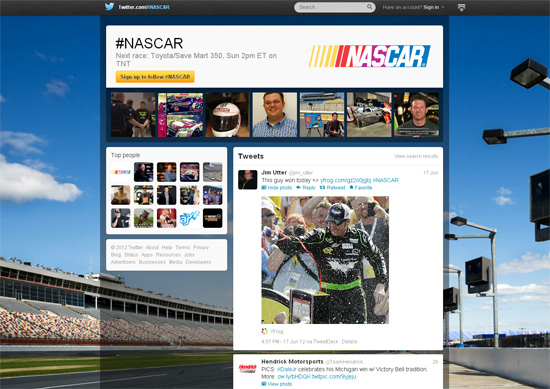 With this new development, Twitter has made its intentions clear and can finally begin to monetize their service by offering brands the opportunity to showcase brand-specific content with hashtag pages. This ambitious marketing move shows that Twitter wants to be the go-to place for people to find out the latest information about their favorite events, brands, TV shows, products, etc.
This lies in stark contrast to the strategy employed by their largest competitor, Facebook. Facebook pages have always relied on the brand to be the creator and author of the content.  Twitter's hashtag pages rely on user generated content to be the primary source of content. This makes it the perfect solution for popular events such as major sporting events and award shows that historically trend on Twitter most often.
Utilizing Hashtags for Events
Although most of Twitter content is user generated, there are several things businesses can do to help encourage its fans to adopt a hashtag.  Brands often promote hashtags in other forms of advertising with the hope that they will become synonymous with the conversation.  This is why we often see hashtags on TV commercials and in print ads, such as in the case of NASCAR. Here are a few basic pointers on how to use hashtags:
Choose a Unique Word or Phrase – Find a word or phrase that has not been used before as a hashtag. You want your hashtag to be specific to your business. It can be anything from your company name or a promoted phrase.
Promote is Amongst All Your Social Media Platforms – The more you use it, the more your fans will do the same.  Promote the hashtag amongst your social media platforms – obviously Twitter, but also Facebook and Google +.
Start Early – If this hashtag is being used for a specific event, make sure to give fans an ample amount of time to learn about it.  Remind users to add the hashtag in their tweets during the event as well.
Utilize Other Already Popular Hashtags – Cash in on hashtags that are already popular to accelerate the usage of your hashtags.
Facebook: Fraternizing with the Enemy
One last change to Twitter that has surfaced in the past month is further integration with Facebook. Long considered competitors, Twitter and Facebook have been collaborating to make the internet experience better for both of their audiences.
Facebook has modified the way tweets appear in Facebook, now allowing hashtags, photos and usernames to show up in Facebook news feeds.  Hashtags that appear on Facebook will link to a Twitter search page for that specific hashtag.
Last, but not least, tweets including images now show up as thumbnails in Facebook feeds, which also link to the full image on Twitter.
Some people may argue that they do not want to see tweets appear in their Facebook feeds, but this collaboration will enhance the social media experience on the web. While Facebook has more members than Twitter, this initiative should "increase Twitter visibility" and lead to more users.
What is your take on the new features? Is there a way you can think of to utilize them for events your business may host?